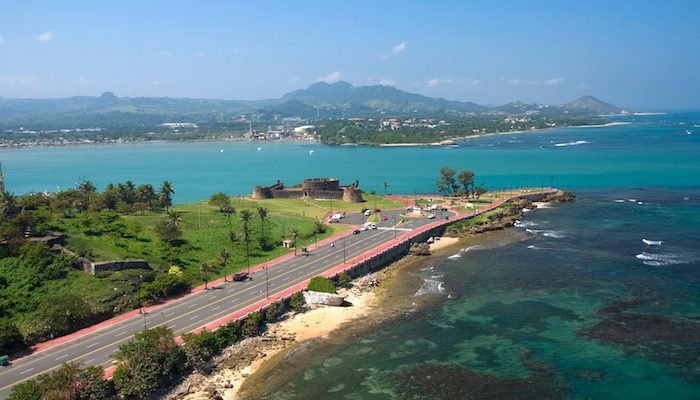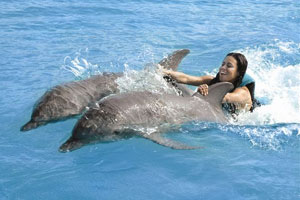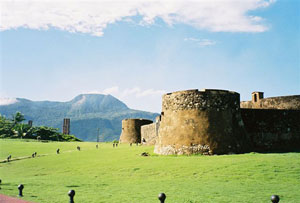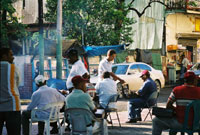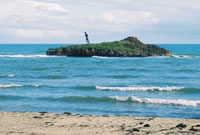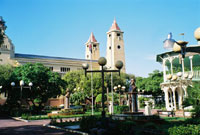 When flying into Puerto Plata, one can see why so many people fall in love with this beautiful place. There are miles and miles of sandy beaches, a luscious ocean, rolling mountains, and a green landscape that would make anyone's heart smile. Landing at the airport, one is greeted in the arrival area with the sound of fun and danceable Salsa music, situated with a Spanish Quartet-happy musicians preparing one for their stay in this lovely land. One needs to be ready for all kinds of adventure, experiencing different culture and customs, activities, and some of the best accommodations in the Caribbean to make this a memorable vacation.
The Dominican culture is an adventure one needs to be prepared for. In general, Dominicans enjoy life, smile and are happy people. However, as an American, there are some aspects of Dominican culture that are different. For instance, navigating the tricky roads while driving. I would not recommend vacationers who are arriving for the first time to rent a vehicle. One can find many tour operators that are willing to transfer people safely from the airport to the hotel. For such type of transportation transfers, I would recommend Hola Tours. They are a reliable company that will pick up vacationers at the airport and hotel. The roads to the hotels are treacherous; but, hopefully after this article is published, they will be improved. The last time, two years ago, I was in Puerto Plata the roads by the ocean were under construction; but, now they are fine and well-paved. However, the main road from the airport was under repair with many men working diligently to fix it. Your driver will earn every penny because of their expertise of the roads, insane drivers, cars and mopeds that are everywhere. From what I have experienced, even though you are traveling in a third world country, one does not feel unsafe unlike other places I have traveled to. The Dominican people are warm, hospitable and ready to please you.
There are plenty of activities in Puerto Plata, ranging from the mountains to the sea. One cannot miss swimming with the dolphins in Puerto Plata. If given the opportunity to do this activity, I guarantee you will love it. Because of the crystal clear water, your encounter with these lovely sea creatures will be a memory you will never forget. I was able enjoy the dolphin swim, sea lion encounter and aquarium snorkel trip. This was a great day frolicking with all these sea animals.
Also, one might want to experience a city tour of Puerto Plata. For about $40.00 U.S. dollars, the vacationer will be shown unique sights within this exciting city. Some of the points of interest include the cable car ride up the Mountain Isabella. It is the second largest mountain in Dominican Republic and is about 2,500 feet high. In the city limits, there is also a wine and rum factory. The Brungal Rum is a very famous establishment in these parts. Everyone needs to visit the city center situated with a beautiful plaza, gazebo, large church, and city hall. It is also enjoyable to walk around as a tourist and interact with locals. Baseball is another passion in the Dominican Republic. The main team is called the Los Marinaros, and their stadium is off of the main road. The locals love to hang out on Mala Con Playa. This is an area where the government has put a lot of money into refurbishing the beach with more sand. Another main boulevard extends past the beach and accommodates a lot of people during the local celebrations, such as Carnival, Easter, and Christmas.
The Dominican's are mostly known for their music and dancing. The dances of choice in the order of preference include the Merengue, the Bachata, and then the Salsa. One can almost feel the beat of their music and the spirit of their dances in everything that the Dominicans do- from street cleaning to waiting on tables. The sound of music seems to emanate from everywhere-cars, bars, and homes. Along the beach corridor is the place where Christopher Columbus discovered North America. In fact, he built a fort here which guards the harbor. Some of the main industries, one can also see on any tour is the cigar and jewelry business. The cigar business is prolific and tobacco is locally grown, picked, rolled, packed and sold. Also, hand-craftsman take stones, such as amber and larimar, and make them into fine jewelry that is sold locally. Amber is a fossilized tree resin, which has sat for approximately 50 million years before it was mined. One can also see various species of insects in the amber, such as misquotes, flies, and spiders. The other stone larimar is a semi- precious gem produced from the Caribbean. This stone is rare and new. The only known deposit in the world is located in the southwest portion of the Dominican Republic. To inquire more about cigars and the jewelry, please email Gottfriend or Gunilda at La Casa Del Larimar, a fine gift store, casadellarimar@verizon.com.do.
The accommodation I stayed in was called Sun Village. It is an all-inclusive resort which is absolutely beautiful. The place has ambiance, class and all the amenities one could ask for. I think Puerto Plata hotels have redefined the meaning of the word "pools" as it had all types of pools; namely, pools for adults, pools with water falls, a pool for children with a water slide and toys, pools by the ocean, infinity pools, and, of course, whirl pools. If one gets tired of pool life, then there is always the option of the rolling surf in the Dominican Sea. I love the ocean, so you get the best of both worlds. The word all- inclusive is something new for many Americans. It simply means that one's meals and drinks are included in the price of the hotel. Some people prefer the European plan, where everything is a la carte, but the all- inclusive package tends to be such a great value. Sun village also has a world-class spa with a gym, scuba shop, and horseback riding excursions.
Staying at an all-inclusive resort, one may need to understand the resort's meal plans. Most all-inclusive resorts have one main dining hall and the other, as they call it, is a la carte type of restaurants. The main dining hall is usually buffet style and is self-serve. Usually the a la carte restaurants are theme-based such as Mexican, Italian, and Japanese. In these a la carte restaurants, one chose from a selection from the menu. This option is still included in the price of your stay. These restaurants are much nicer, tend to have better service and appear more elegant than the average dining hall. Typically, the food is also much better. Tipping is acceptable, but not mandatory. Also, at this particular resort, as with other all-inclusive resorts, one needs to spend a little time understanding the amenities as there are many choices and opportunities. Read your hotel guide and go out and explore the property and therefore you can plan your days accordingly.
Overall, the Dominican Republic is a great value, as well as a fun and exciting place to visit on most vacationer's travel budget. To get some pricing for a vacation click here.
Get More Information on This Adventure!!!
Experience adventures like the one found in this article and others by using TropicalAdventure.com Vacation Planner. Simply fill out our Vacation Planner form and you will receive FREE information about this activity and others that you may be interested in. Click below to sign up.