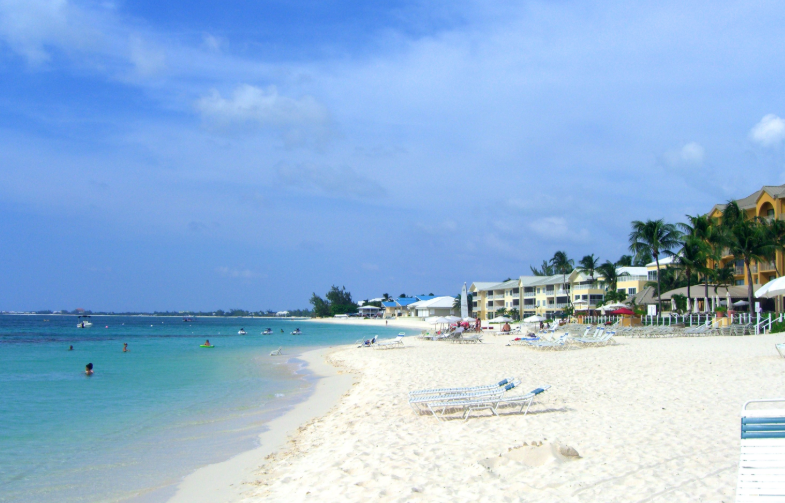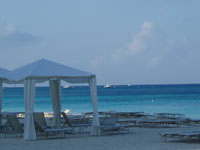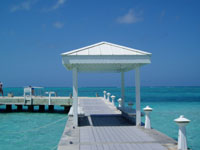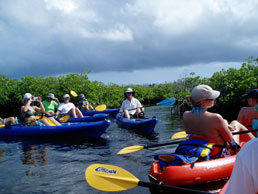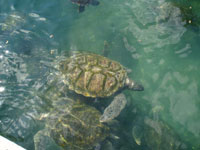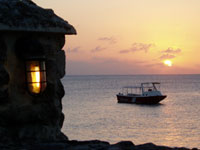 When you think of the Cayman Islands you can expect to imagine offshore banking probably comes to mind. Yes, the banking industry is part of what drives the economy of these picturesque islands, that, and tourism. Many people experience Grand Cayman for only a few short hours when their cruise ship docks at George Town, but those who make it their vacation destination discover what a unique place it really is.
There are plenty of activities to keep everyone happy, and yes, if you just want to rest and relax by the pool or on the beach, you can do that too. Grand Cayman is truly a family vacation spot.
For those who want to experience more than just a suntan vacation, Grand Cayman can keep you busy from morning to night. Boatswain's Beach and the Cayman Turtle Farm attract over 360,000 guests per year. This place is dedicated to the survival of these beautiful creatures and once a year several turtles are released to the ocean. This is home to more than 16,000 Green Sea Turtles who are raised and cared for and where visitors can see and even hold them. From the baby hatchlings to the largest (575 lbs.) and oldest (72 years), you can see them all. Besides the Green Sea Turtles, there are a few other species to see and compare – Loggerheads, Hawksbills, and Kemp's Ridleys.
For the outdoor and nature lovers there are several other places to visit while on Grand Cayman. The Queen Elizabeth II Botanic Park and the Blue Iguana Recovery Program are great for nature lovers. Take a leisurely walk on the 8/10 mile walking trail around the park and discover a variety of plants and trees. The "Colour Garden" is arranged by colors and as you pass through you'll see a variety of pink, orange, yellow, blue and white flowers that will take your breath away. The Heritage Garden is a recreation of a traditional homesite that would have been on the island many, many years ago – before electricity and modern conveniences. The park consists of 65 acres, much of which was damaged by hurricane Ivan in 2004, but it, like the rest of the island, is recovering nicely. This place is filled with magnificent colors and scents, so be prepared with Claritan or Benedryl if you have allergies. And, while you're walking around, don't be surprised to see a blue iguana keeping you company. There are many in the park, which is next to the Blue Iguana Recovery Program that houses almost 200 of these indigenous creatures.
Another fun and cool activity is a relaxing horseback ride on the beach. Pampered Ponies will guide you along a serene stretch of beach where you can enjoy the sand and the surf. But don't let their name fool you – these are full size horses. And if you decide you want to speed up your heart a little, try a canter or gallop!
The exotic Butterfly Farm is not to be missed. This fascinating place is a tropical garden with butterflies from all around the world twitting through the air. It's really a serene place and once you purchase admission, you can return as often as you like during your visit to the island. The tour guide will explain how a butterfly is "born," and you'll see its four incarnations. From a tiny egg which hatches into a caterpillar which turns itself into a chrysalis which then transforms into a butterfly, every stage of life is represented here.
If you'd prefer not to stay on dry land – remember, this is an island – there are so many things to do in Grand Cayman here, you won't be able to decide what to do first! Stingray City is filled with stingrays, all swimming around and waiting for you. Red Sail Sports, with several locations around the island, offers Stingray City outings. We took a catamaran out for some snorkeling around the stingrays and the other marine life. The knowledgeable – and often comedic – crew is helpful and handy, and even provides lunch on the trip back! What else could you ask for? If you prefer not to snorkel in the deep waters, then you can take their afternoon tour, which takes you to a shallow area where you can walk through the water while the stingrays swim around your legs. This is an incredible experience, and even if you don't want to walk among the stingrays, just watching them is amazing.
Not in the mood to swim with the stingrays or be in the ocean? How about kayaking through the mangroves? Bob and Luca at Cayman Kayaks will guide you on one of three different tours. On "The Sunset Tour" you'll experience the magnificent colors of the sky as you paddle through this protected natural habitat. Ages 6+ are welcome on this 1 hour tour. "The Wetlands Explorer" is a little more energetic, longer, and for ages 14 and above. A light snack and water is provided. "The Mangrove Adventure" is an easy paddling tour with several stops along the way. Age 6+ are welcome, however make sure your child can sit for the 2 hours. Water and life vests are provided for everyone on the tours.
If you still haven't had your fill of water activities, you can now swim with the dolphins Grand Caymanstyle. There are two facilities, one on the east end and one on the west end of the island. So you will have your pick. You can also try the Wave Runner Snorkel Safari offered by Red Sail Sports. I have fabulous memories of this, even though the day we went out we didn't have the best weather conditions. You'll be guided through the water on your wave runner (they are set to a maximum speed under 50 mph) to two different snorkeling spots where you'll see even more marine life. If you haven't experienced racing over the water on a wave runner before, this is something you really should try!
And if you want to see the underwater life but don't want to get wet, board the Atlantis Submarine you can dive to depths over 100 feet to view the incredible coral and other sea life that live below the surface.
So, now that you've experienced the island on the ground and in the water, what else is there? Jerome at Cayman Islands Helicopters can fly you around to see everything from a new vantage point. With three different tours, there's something for everyone, whether you want to see the entire island, seven mile beach, or the stingrays from above, Jerome is the man for you!
So, you see, there is a lot to do on this small and exciting island. It's probably taken you almost as long to read this as the average cruise ship tourist spends in Grand Cayman!
Now that you've decided to make Grand Cayman your vacation spot, the next question is where do you want to stay? There's no shortage of hotels and places to stay in this place. They run the gamut from the bare necessities with kitchens, to the most elegant. Seven Mile Beach is the place where most of the well-known hotels are located. The Westin Casuarina Resort and Spa provides a great location for the entire family. There is a swim-up pool bar for adults, who can also indulge themselves at the relaxing Hibiscus spa where, among a variety of things, they offer couple massages. Merinda at the Kids Club entertains your children with day (half and whole) and night camps, providing kids with activities, crafts, outside excursions, food and fun. Ferdinands is a great place on Friday nights for the Pirate Buffet, with indoor and outside dining. Can you say delicious?
And for the ultimate in luxury & style, the Ritz-Carlton Grand Cayman was created. This beautiful resort has only been open a few months, but it is already a popular retreat. This is the place to be indulged, complete with turn-down service and a chocolate on your pillow. The Silver Rain Spa has several options that will pamper you. There are several dining options, including Periwinkle, a fun poolside restaurant that offers yummy parmesan fries, among other delicious goodies. High Tea is offered on Saturday and Sunday, and by special request. A special Teddy Bear Tea on holidays and special occasions, let children enjoy the fun ritual of afternoon tea. Also for kids, the Ambassadors of the Environment program was created with the assistance of Jean-Michel Cousteau and his Ocean Futures Society. Kids have several activities from which to choose, and if you decide to have a night on the town, you can pay an hourly rate after 9 PM for supervised sitting. Snorkeling, hiking, sailing, wall climbing, hiking and other activities combine to make this a magnificent way for kids (divided into ages 4-7 and 8-18) to enjoy their vacation.
If you're not in the mood to stay in Seven Mile Beach and want to immerse yourself in the island environment, the Rocky Shore Guest House rents several units with kitchens. It's out in the country, located on the west side of the island. Proprietors Trina and Chris also teach island crafts and traditional arts. Up the coast from there is Cobalt Coast, which opened December 2000 and gives guests a "small but full service" option with "island charm," says proprietor Arie Barendrecht. The view is spectacular and Dive Tech, located on the property, has scuba outings for kids and adults. The east side of the island is also a picturesque alternative to the hustle and bustle of Seven Mile Beach and George Town. The Reef Resort is a friendly hotel away from the crowds and traffic.
Dining on the island is another treat. The view from the Sea Harvest Restaurant at Sunset House, combined with the food was one of my favorites. I had a vegetable curry dish that was out of this world. Hemingways Restaurant at the Hyatt, The Calypso Grill, and The Wharf are all among my recommendations. The Wharf, especially, provides wonderful first class service with delicious food. At 9 PM every evening they feed the Tarpons that are drawn to the location by the light. And, to my amazement, kids were among the diners at all of these places. But if you have fussy eaters in your family, don't fret. There are plenty of KFCs, Burger Kings, and Wendy's' so you know everyone will get something they want. Plus, this island is loaded with pizza places too! Coconut Joe's is the hip place for three meals a day. Try their "soon to be famous" hash browns at breakfast. Mmmm.
Getting around Grand Cayman is a little tricky. You can rent a car or take the taxis. If you rent a car, remember they drive on the left side of the street and you may get a car with the steering wheel on the left or the right side. There are both, which can be a little confusing. Also, make sure your car has a working air conditioner. That's something I forgot to check before leaving the rental agency. At least the windows rolled down!
Their street signs leave a lot to the imagination. It's quite difficult to find the street you're looking for, and the maps aren't that much of a help. Believe it or not, they do have traffic on the island. Their main road is two lanes with a center lane for turning, and during rush hour things often tend to get a little jammed up.
Even though the Cayman Islands are in the British West Indies, the electricity is still 110, or standard American current, so you can easily recharge your iPod, camera, and cell phone. The people are friendly and happy to have you there. A majority of the people we talked to are relocated Canadians, who have left the colder climate for the warm temps of the Caribbean. And it does get warm. As a matter of fact, I can honestly say when I went to Grand Cayman, I went to Hell. Actually, Hell is a small town there and the geography consists of some black jagged rocks that could resemble hell, although since no one has come back from there to confirm that is what hell is like, we can only surmise. When you're there, check with Ivan, the devil who is always happy to take a picture with visitors.
We visited Grand Cayman in late February, which is their high season and coolest time, if you can call 85 degrees with the humidity factor making it seem like 95 -100 cool! But even with the heat, it is a fun place to explore, with plenty of things to do and incredible blue water that ranges from various shades of turquoise all the way to a dark cobalt blue.
Unlike many of the other islands in the Caribbean, Grand Cayman is a fairly safe place to be. You won't have people coming up to you on the street begging for money or soliciting you to purchase anything. You can feel relatively safe and secure as you walk around the island. I did not see one piece of graffiti on the entire island, and believe me when I tell you that we scoured every inch of that place! It is clean and friendly and welcoming.
Grand Cayman is the largest and the main island of the three Cayman Islands. Hurricane Ivan's destructive path in 2004 caused a lot of damage, but everywhere you look there is new construction and life. Things are coming back, making Grand Cayman a great vacation destination for the entire family.
One final note, when you go to Grand Cayman, don't forget your antihistamines if you have allergies to plants, plenty of sun block, a hat, and bug spray. Trust me on this one if you don't want to return with bug bites all over your ankles! Next time I'll follow this excellent advice!
Get More Information on This Adventure!!!
Experience adventures like the one found in this article and others by using TropicalAdventure.com Vacation Planner. Simply fill out our Vacation Planner form and you will receive FREE information about this activity and others that you may be interested in. Click below to sign up.