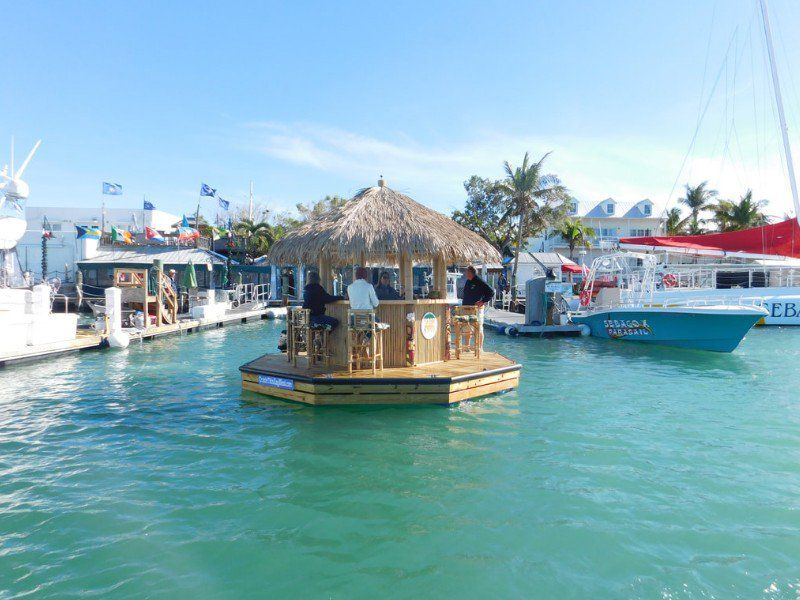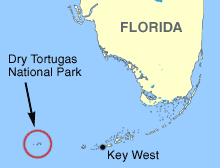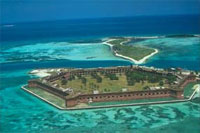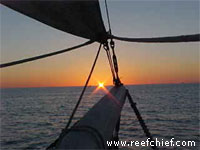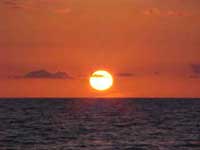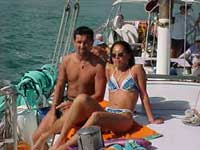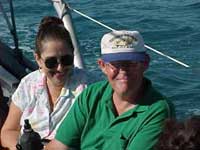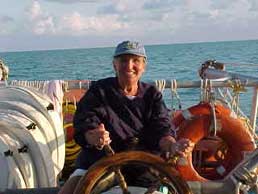 Spanish explorers settled Key West, once known as Bone Island for its plentiful source of Indian burial sites. Key West began to hustle in 1822 when it gained a naval base and Anti-Pirate Squadron, which eventually squashed buccaneers' attacks on the area.
The Keys has meant different things to many people over the years, especially after Henry Flagler built his Overseas Highway, that runs from Florida's mainland to Key West. In the early 20th century, bootlegging was the draw, and in the 60's World War II benefited from Key West's location, where a naval base was revamped. Since then, Key West has become quite the tourist destination, attracting people of all ages and interests, from around the globe.
Today a visit to Key West, for great many travelers, includes lying on the beach, and drinking margaritas. Some, however, are more fortunate. They sail away on the Schooner Reef Chief, a 65-foot wooden boat, built in the fashion of the American classic sailboats. The vessel transports seafarers to another world of wild abundance. The far-reaching sea becomes close at hand. Some choose to lounge on the deck of the boat, others take to the unforgettable fishing.
Built in 1972, the Reef Chief is a classic traditional wooden schooner, comprised of exceptional teak and cypress. Today, Reef Chief is Coast Guard inspected and certified, and sailed by Captain Al.
Ecology & Environment
Captain Al has a great deal to showcase. The world around him is a stage of natural beauty. The ecology of Key West is legendary. The tropical foliage is bountiful. The ocean-going creatures are exuberant. The Reef Chief travels to a specially chosen coral reef. Since the Reef Chief sails from the furthest point of the Keys, it is, at most times, the only boat to visit this reef. The reef is unspoiled, presenting vibrant colors and even more vibrant fish. Captain Al claims that you will see the largest lobsters of your life, while aboard the Reef Chief. The site of manatees, loggerhead, leatherback, or green turtles may also delight you. You just have to get out there to be fortunate enough to encounter them.
Look towards land and you will be just as enlightened. Key West's flora is magical. You will find yourself daydreaming about the lush environment long after you've visited. The hammocks within the forest, next to water, thrive and support countless numbers of plant species, including gumbo limbos, and one of the hardest woods in the world, lignum vitae.
There are freshwater marshes and sawgrass, swamps featuring cypress trees, wet and dry prairies with wire grasses and upland wooded areas thriving with shrubs, pine and oak. Over the years, some exotic flora has been introduced, such as Australian pine and melaleuca.
Under the sea near Key West live the most unique and largest of North America's coral reefs. The reefs are fragile, due to pollution and global warming, so don't miss a chance to capture the beauty. The Reef Chief can take you there. Captain Al says that he takes people to the largest and most protected reef.
Area Attractions & Events
The Schooner Reef Chief will keep you busy and fulfilled throughout the duration of your stay in Key West. Nevertheless, if you are one of those whose energy levels never waiver, there are other things to do and see.
The Key West Aquarium, built in 1932, offers touch tanks full of starfish, sea cucumbers, barracudas, angelfish, sea turtles, and much more. For the adventurous, there is the Aquarium's 'Pet a Shark' exhibit.
Dry Tortugas National Park is a must see natural wonder southwest of Key West. The Tortugas are a collection of seven islands. Ponce De Leon first discovered them 300 years ago. The islands were named, in part, due to their lack of fresh water. In 1846, a fort was built on the islands, and named Fort Jefferson. Its uses were many over the years, but eventually the fort was designated a national monument by President Roosevelt, and ultimately changed to Dry Tortugas National Park by President Bush, in order to help preserve the ecology of the islands. When you visit these days, you can trek and camp, snorkel and dive, and enjoy pure nature, peace and quiet. To get there, take a ferry from Margaret Street in Key West.
For a more social affair, don't forget the Hemingway Days Festival, held in July, where Ernest Hemingway look-alikes show up to celebrate at Sloppy Joe's Bar. Attendees conduct readings and short-story contests, compete in a Key Lime Pie eating event, and participate in a unique version of the 'running of the bulls'. There are festivals all year round in Key West, including Fantasy Fest, a 10-day, non-stop jubilee.
Adventures
The Reef Chief sails exclusively to the Ecological Reserve where the coral reefs live. The Captain proclaims, "We sail to the largest, most protected and abundant coral reef in the Florida Keys."
There can never a dull moment on the Schooner Reef Chief, unless you choose there to be. From the start, you can help hoist the sails and lead the boat to the reef. Along the way, keep your eyes pealed for Whiteface, the dolphin. He and his pod find the boat and swim along frequently. You may also catch a glimpse of frigate birds or ospreys.
Captain Al's trips are 4 hours in length, with 2 full hours spent at the reef. On the way out to the reef, Captain Al sets guests up to troll. The Reef Chief will take up to 34 passengers. Snorkeling is offered at the reef, the Florida Keys National Marine Sanctuary, throughout the year. Captain Al provides wetsuits and corrective masks for those interested in snorkeling.
If two's a crowd, even, then consider the Chief's custom private charters. The boat is available for birthdays, family reunions, corporate charters, and weddings. The Chief's web site states, "You and your guests will enjoy a uniquely unforgettable ceremony and celebration when they sail into the sunset on our big, comfortable, classic schooner Reef Chief. Surrounded by romantic music, beautiful flowers, the fresh sea breeze, the flaming sky at sunset and . . . dolphins."
The Schooner Reef Chief is even a superior choice for family activity. The boat has a bold music and sound system that makes for a lively day afloat. Captain Al sticks with the "no booze cruise".
Lodging
The Reef Chief is located at the far southern end of Key West. The closest hotels are Days Inn and Holiday Inn, both suitable for families and available at reasonable room rates.
Dining
Captain Al says there are many fantastic restaurants in his area. He recommends Seven Fish.
Seven Fish likes to be known as Key West's hometown bistro. The restaurant is located within walking distance from Duval Street. Their web site states, "Call it a fish-style bistro, where mahi-mahi and sashimi mingle with meatloaf and steak," and "Our offbeat location, cozy environment and satisfying food will make you think you've found yourself a new hometown."
Getting There
There are two airports to choose from when flying into Key West. The Key West International Airport is the most frequented, and Marathon Airport, offers limited services.
If traveling via land is more your style, you can take a greyhound bus, from Miami's Bayside Station, for a five-hour journey to the Key West Airport. The buses leave several times per day from Miami, or you can get picked up anywhere alongside the Overseas Highway, otherwise known as US 1. Just be sure to stand visibly and waive assertively so the bus will see you. You can also travel via your own car via I-95 south to US Highway 1. Keep driving till the highway ends in Key West.
When traveling around Key West, remember that there's one main road that will take you to wherever you want to go. Parking is tough in Key West, so consider getting around via the public transit system, or rent a scooter or bicycle for a thrill.
The Reef Chief offers two coral reef trips daily, morning and afternoon. The times vary, so it is suggested that you call ahead to reserve your ticket to paradise. A crowd is something of your past, and freedom of spirit becomes the here and now when sailing on The Schooner Reef Chief.
Key West Aquarium
1 Whitehead St.
Key West, Florida 33040
800-868-7482
Dry Tortugas National Park
PO Box 6208
Key West, FL 33041-6208
Phone: 305-242-7700
Hemingway Days Festival
3990 South Roosevelt Blvd
Key West, FL 33040-5204
305 296 2388
Lodging
Days Inn
3852 N Roosevelt
Key West, Florida 33040
1-800-340-2545
Holiday Inn
3841 N Roosevelt Blvd
Key West, Florida 33040
Tel: 1-305-2942571
Dining
Seven Fish
623 Olivia Street at Elizabeth Key West, FL 33040
305-296-2777
http://www.7fish.com
Get More Information on This Adventure!!!
Experience adventures like the one found in this article and others by using TropicalAdventure.com Vacation Planner. Simply fill out our Vacation Planner form and you will receive FREE information about this activity and others that you may be interested in. Click below to sign up.