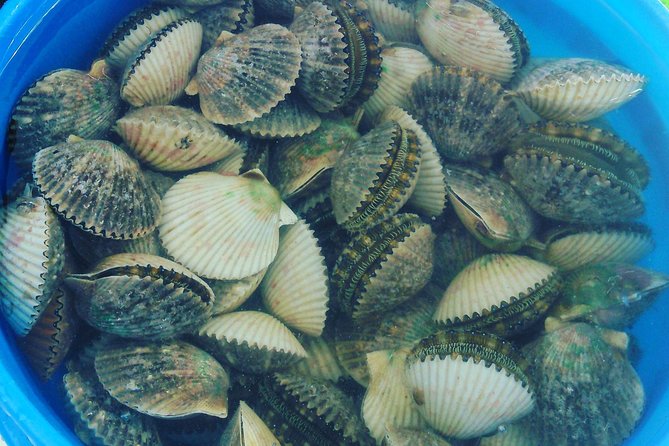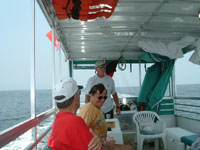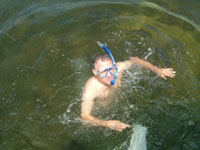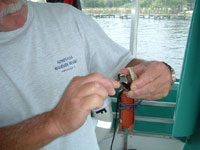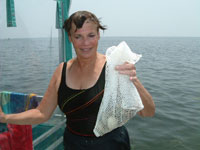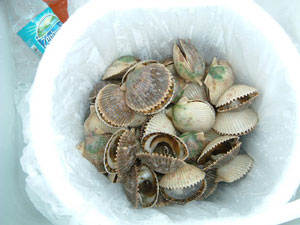 What is a Scallop? The text book definition says that a scallop is a member of the shellfish family known as bivalves, named for its two valves, or shells. Its upper valve is a dark mottled color, occasionally bright yellow or orange, and its lower valve is typically white. Bay scallops may reach a shell height of two inches and live two years; although, in Florida their life span is generally only one year. Take a peak at the Shell gas logo, and you'll have a mental picture of what the animal looks like.
The bay scallop feeds continuously by "vacuuming" or filtering small particles of algae and organic matter from the water. It does this by funneling water over open pathways called gills. One of these pathways takes in water and skims off particles, while another expels the filtered water along with digestive wastes.
Scallops open their valves when feeding or breathing and close them when predators approach. The shell can also be slammed shut to avoid silt, which can clog the animal's delicate gills. Many tiny, blue eyes arrayed along the outer rim of the shell detect movement near the animal and serve as a warning system. When threatened, the scallop can swim backwards by clapping its valves and expelling water rapidly.
You might wonder why I'm so interested in the scallop. One day, I was invited to join Sunshine River Tours' Scallop Tour. The day of the tour, we all met at Captain Mike's Welcome Center. It was there that I gathered the gear that I needed for an authentic scallop trip. I learned that we needed a recreational saltwater fishing license, which is required and provided with your trip. In the end, the vital piece of equipment that was necessary was just an ordinary mess bag. I would use this bag to collect my scallops. Once we had our bags in hand, we headed to the boat where Captain Stu met and escorted us on our adventure.
It took about thirty minutes to boat away from the pristine riverbanks of the Homosassa River to the Gulf of Mexico. Homosassa River is famous for clear water where manatees make home during the winter months. Captain Mike's most popular tour is the Manatee Tour. Nevertheless, this day the little scallops ruled. On board, Captain Stu explained his simple rules for scalloping. First, he asserted that each person must not gather more than 2 gallons of whole scallops. He continued by explaining that ten gallons per boat, with five or more passengers, was the limit. He went on to explain that if we clean the scallops before returning to the dock, the limit is 1 pint of scallop meat per person, with a maximum of 2 gallon per boat.
Captain Stu reassured us that scallop hunting is easy. Nevertheless, at this point, I was not too confident, because I compared it to an activity that I am familiar with – lobster hunting, which is not easy. Onward we floated to the first stop. We all hurried to put on our snorkel gear and jump into the 6-foot deep crystal clear water. At this point, I was still not sure what I was looking for. I knew what scallops looked like but was unsure about where to find them along the sandy bottom. I looked under rocks and stones and could not find any. After a while, I learned that not one person in the group found scallops at that stop. We all returned to the boat and went to another location. Captain Stu continued to reassure us that we would have success. He was right. This attempt was different. We hit the mother load minutes after jumping into the water. There they were…aqua blue nuggets, with their little blue eyes staring at you. You would not believe the striking blue eyes these creatures have. They seem to glow in the water.
The scallops lay there in the wide open, mostly in the grassy areas. All you have to do is free dive, or bend down and pick them up. The scallops close their shells as you get near them, the tiny blue eyes disappear within the shell, and then you scoop your hands underneath them and put them in your net bag.
We scooped and moved, and scooped and moved, until the group was tired. Back on board the boat, we put our catch inside the iced cooler and brought the booty home. At the end of the day, Captain Stu showed us how to clean these little guys. We learned quickly that preparation is the key to this task. Cleaning the scallops takes a lot of work. As a beginner, it took me about 1-2 hours but it was well worth the ultimate reward – a delicious meal.
The boat was a cool mix of people that day, from a family with two children, 7 and 10 years old, to an elderly couple. This was definitely a magnificent day for everyone. We spent it amidst fresh air, shiny waters, and bright sunshine, and, at the same time, were spoiled by the conveniences of the boat, including the comforting shade it provided.
The cost of Sunshine River Tours Scallop Tour is $50 per person and includes a license as well as use of mask, fins, and snorkel. This tour is only available during scallop season, along Florida's gulf coast. Scallop season begins July 1 and runs through September 10. State waters in the Gulf of Mexico open to scallop harvest extend from the Pasco-Hernando County line. Reservations with Sunshine River Tours are a must, call 1-352-302-9207.
For more information contact:
Sunshine River Tours
Michael Millsap, Owner
(352) 628-3450 
WEBSITE: www.sunshinerivertours.com
Equipped with a bag full of scallops and a hearty appetite, give this recipe a try:
Scallop Chowder
– 2 Onions, sliced
– 4 tb Butter
– 2 c Scallops
– 2 c Boiling water
– 1 c Diced potatoes
– 4 c Scalded milk
– Salt and pepper
Directions: Sauté onions in butter. Remove onions from pan. Cut up scallops and sauté in butter. Add onions, scallops and potatoes to boiling water. Simmer 30 minutes. Add scalded milk and simmer 15 minutes. Add seasoning.
Serves 5
Get More Information on This Adventure!!!
Experience adventures like the one found in this article and others by using TropicalAdventure.com Vacation Planner. Simply fill out our Vacation Planner form and you will receive FREE information about this activity and others that you may be interested in. Click below to sign up.