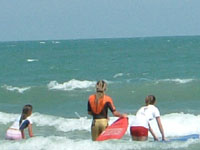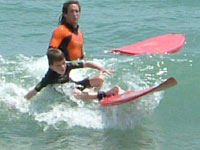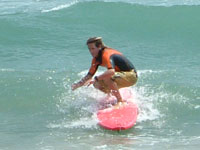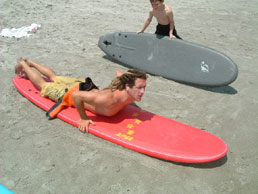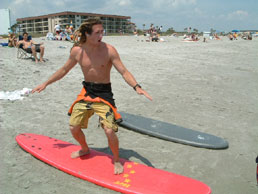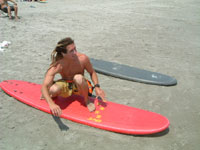 "Everybody's going surfing…surfing USA", as the famous Beach Boys song proclaims. But in this case it should be, "Everybody is surfing…surfing Cocoa Beach," because that's where I had an adventure of a life time. I grew up on the beach and never had the opportunity to surf. Today, at 44 years old, I took my 16 year old nephew for surfing lessons with Nex Generation Surf School. I couldn't let my nephew have all the fun, so I joined in.
We meet Brian Gale, the owner of Nex Generation Surf School, in Cocoa Beach, on 8th Street, behind the famous Ron Jon's surf store. Brian met us under a tent set up on the beach, where he had all the surf boards ready for us. I got to meet my fellow students, ranging in ages from 6 to 16 years old. I was by far the oldest student. Brian had a way of communicating well with each of his students. There was another professional surfer with him who assisted with the class.
While we all stood anxiously in the warm sand, Brian taught the basics on surfing. He explained how to paddle out, catch a wave, read the waves, what to do during a wipe out, and the "rules of the road" in the water. He also warned us that we would all wipe out. You should expect to have many of them. They take many forms, and can be fun. It's most important to look out for your board when you crash. It may bounce back towards you. After Brian's lessons and words of wisdom we took to the water to try our newly attained skills.
In paddling out to the waves, Brian encouraged us to try nice, even, alternating strokes. When its time to get through the whitewater you need to gain speed and raise your chest up with your arms so that the water passes between you and the board, Brian explained. He also emphasized that the biggest mistake new surfers make is not paddling hard enough. They stop paddling as soon as they think the wave has them, only to miss it. On your first try, take a few more paddles even though you think you have it. Paddle and let the white water catch you. Once the wave takes you, for the first couple of rides just enjoy and don't even try to stand up. The speed will provide enough fun.
Catching my first wave was totally exhilarating. It took quit a few tries but I did manage to get up. In catching a wave we had the benefit of the instructor pushing us forward at the appropriate moment of the wave break. There is a real science in learning to surf, as we discovered. Knowledge of the waves is complex and comes from experience. You have to learn which wave to paddle for and which to let pass, when to start paddling and how fast, how much to arch your back, and when to jump to your feet. These are things that no one can teach you. One lesson may not be enough.
When you begin to catch waves consistently, you're going to want to try riding them standing up. The key to getting up on a surfboard is making one fluid motion from the paddle position to standing. As you paddle and feel the wave start to take you, put both hands on the rails, pushing down hard so the board stays in the wave. Allow the motion to propel you to a crouched standing position as the board falls away. Make sure to keep your knees bent and your butt way down to give your stance more stability.
Foot placement is crucial. It's really worth it to practice jumping from prone to your feet on land first. Rehearse it well before doing it on a moving board in the water. I wished we had more time to practice this on the beach, it would have helped. Keeping your feet apart and knees bent will automatically put you in the right position. Your front foot should then push the board down the face of the wave. You'll want your back foot near the tail of the board and your front foot somewhere near the middle of the board. By the time you get your foot position right, your arms should be out in front of you ready to help with balance and correcting. Get to know your board and the perfect "spot" for your weight to be. If you are too far forward, you will pearl straight down into the water and fly off the board. If you're back too much, you will never catch the wave.
Once you're up its time to ride the wave in. Depending on the size of the board either balance on it (bigger) or move it to stay underneath you (smaller). I had a nice, long, soft board that was perfect for my first experience.
Surfing the waves gives the appearance of looking fairly easy. You would think you just need to paddle out, turn around, and wait for the perfect wave to surf. Appearances, in this sport, are very deceptive. It takes a fair amount of strength, agility, and balance to surf successfully.
From what I understand, there are a number of different breaks where surf transpires, depending on the shape of the ocean floor or the type of obstruction that might be causing the waves to break. There are pier, reef, shore, point, and peak breaks. Each individual wave is transformed into the face, shoulder, lip, trough, and if your lucky, a tube. Each wave has a specific story, told via the dynamics of the wave. It helps if you know this lingo in communicating with your fellow surfer while out on the water.
Brian also explained the "rules of the road" in surfing. You need to know that on a breaking wave, the inside surfer has the right of way. The inside person is defined as the one closest to the peak of the wave. On a right breaking wave this means anybody to your left. On a left breaking wave it means anybody to your right. If there is a surfer inside you, they have the right of way. You should back paddle and pull out of the wave, making sure you are holding on to your board.
"Dropping in" is taking off on a wave in front of someone who is already up and riding. You should NEVER do this. There are no exceptions to this rule. When paddling out, if you must get over a wave that someone is riding, paddle behind them, on the white water side.
After two hours on the surf, I was exhausted. As I paddled in slowly I thought to myself, "Now, at 44 years old, I can say…I've surfed! What a feeling!" My nephew and I finished the day with a one on one with Brian and thanked him tremendously for a great time. I would recommend Brian's services to anyone interested in learning to surf. Brian gives private and semi- private lessons. For the young at heart, Nex Generation Surf School is a must.
Remember, surfing is all about fun and self-expression. It's important not to get too stressed about making mistakes. As the surfers say, "be mellow man, life's too precious."
Nex Generation Surf School
$75 per person (1 Hour)

$150 per person (3 Hour)

$60 per person (1 Hour)

$100 per person (3 hours)

$75 per person (3 Hours)

$60 per person (2 Hours)

$35 per person (1 Hour )
Jetty Park
(321) 783-7111
If you are the camping type, this is coolest campground. It next to the ocean and you can watch the space launches here. There is camping, and RV hook-ups. Price for camping is about $25 per night.
Get More Information on This Adventure!!!
Experience adventures like the one found in this article and others by using TropicalAdventure.com Vacation Planner. Simply fill out our Vacation Planner form and you will receive FREE information about this activity and others that you may be interested in. Click below to sign up.