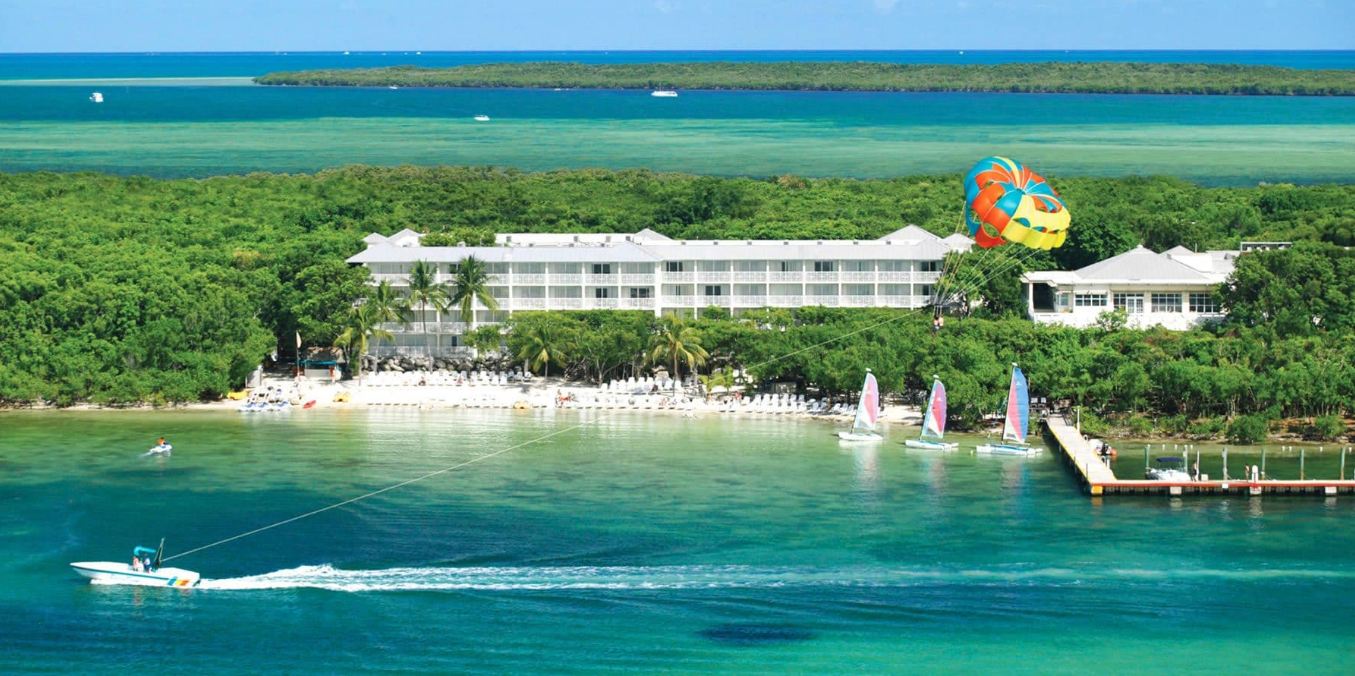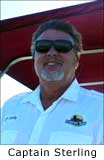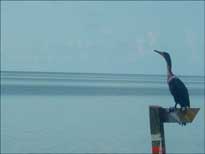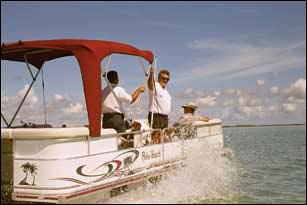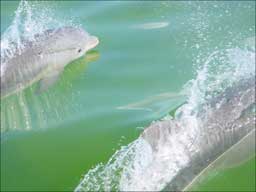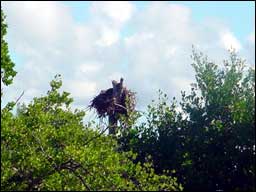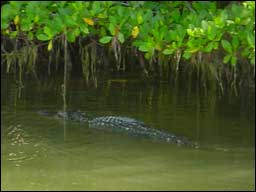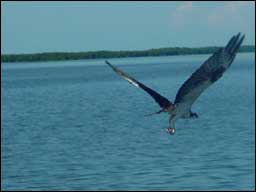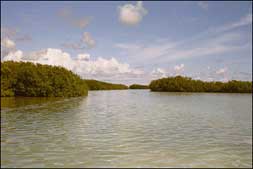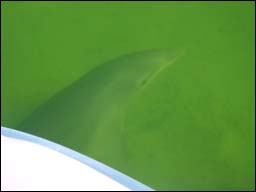 As I drive up to the 101.9 mile marker of Key Largo, Florida I see a myriad of bright flags waving in the wind and welcoming me to Dolphin Cove, the home of Captain Sterling's Everglades Eco-Tours and my first journey through the untouched beauty of the Florida Bay.
I see the comfortable looking pontoon boats and people gathered on the far boat off to my right and know I am in the right place. Heading to the office I am welcomed by the office manager Jennifer and directed to the newest of the boats, the "Palm Beach," nesting in the dock next to another of Captain Sterling's boats.
Captain Sterling Kennedy smiles and greets me with introductions all around to Captain John and Captain Jake who will also be directing the Everglades Tour and to Joy who works in the office helping set up tours and maintain daily activities for Everglades Eco-Tours and Dolphin Cove. Armed with a video camera, Joy says she hopes to catch some wild dolphins or manatees on film during our journey.
As we are seated with Captain John at the helm, the engine starts and we head out to the most amazing display of Florida nature I could ever imagine. The early morning sun reflects shades of coral and pink on the water as the luscious green of the island mangroves lures us into this unspoiled world.
We float into what feels like a different planet, devoid of buildings, roads, people and noise and are instantly surrounded by grassy, shallow water separating small islands of trees and vines. There are mullet swimming carelessly beside us and prehistoric looking birds only Captain Sterling could name diving into the water for their breakfast and flying high to try again. This is earth at her purest and most divine and I feel blessed to be present for this unique glimpse.
I sit at the front of the boat with Captain Sterling and ask him about the types of wildlife we can expect to see on our tour. "Typically we will see a lot in the way of bird life," he says. "We will likely see osprey, white pelicans, spoonbills, egrets, great blue herons, anhinga and others." He explains that the bird life in the Florida Bay is most prevalent during the snow bird migration of the winter months, with birds nearly lining the shores of the bay.
"When we reach Flamingo south (where we plan to make a stop), we may see the American alligator and the American crocodile," shares Captain Sterling. He refers to a commonly unknown fact that the Everglades National Park is the only environment on the planet where alligators and crocodiles can be seen together, as the alligator's need for fresh water and a subtropical climate and the crocodile's need for saltwater and a tropical environment are both met here.
The water is surprisingly shallow in the Florida Bay with an average depth of 3 _ feet. In some places the water gets as low as nearly a foot, making it a curious endeavor for Captain John to keep us from dragging the propeller on the floor of the bay. I comment on the grassy, shallow water and ask more about the skill necessary to navigate this area. "You really have to know what you are doing out here," shares Captain Sterling. "There are some shallow areas where you have to hit the route dead on or you could be in trouble."
I am directed to the tall, vertical wooden posts ahead of us protruding out of the water and topped with smaller, reflector laden planks that seem to point in one direction or another. "Those are our road signs out here," explains Captain Sterling. "These markers guide us through the shallow areas so we don't go off course and get stuck or make unnecessary tracks."
"It is called 'prop dragging'," explains retired pilot and part time eco-tour guide Captain Jake. "When you run enough boats through one place, you create a path that it makes sense to follow. When boats fail to pay attention and don't follow the path, the dragging propellers dig into the bay floor and cause damage to the eco-system." The post markers also seem to be a well utilized stopping point for the birds of the area as a different species of bird seems to top virtually every post on our path.
As we pass a friendly pelican posing for his close-up, I am told that we are about 40 miles due west of the Gulf of Mexico and well on our way to the Flamingo Visitor Center on the southwestern coast of Everglades National Park. I pause to take in the remoteness of our surroundings as Captain Sterling points to a small island of mangrove and mentions that everything we are seeing has remained virtually untouched by human beings for thousands of years.
Captain John slows our boat as we are approached by the first fellow boaters we have seen all morning. The small fishing boat "Gypsy" is guided by Joe and Dolly, friends of Captain Sterling who planned to meet us early in the tour and follow our boat through the difficult to navigate Florida Bay. As I look through my camera lens in the boat's direction, I see a smiling rubber alligator in the front seat and a telephoto camera lens topped with a sharp safari hat in the driver's seat looking back at me, assuring me that this was not the couple's first trip through the Everglades National Park.
When we reach the half way point of our journey, we will be about 20 miles from civilization and our starting point at Key Largo. As we look behind us, I am told of the tower near Dolphin Cove that serves as a marker for the return journey home. "It is especially helpful at night since it is lighted," says Captain Sterling. He proceeds to tell me of his other Everglades Eco-Tours including the private night time crocodile tour and mangrove tunnel tour where any guiding light besides the lights from the boat, the moon and stars and the glow of crocodile eyes is a welcome sight. "The night tours are exciting and can be a little eerie," shares Captain Sterling. "When it is that dark out, you can't tell where the sky stops and the water begins."
We come upon a crooked line of post markers called the "Crocodile Drag-over," named for the back and forth motion it requires of a boat, reminiscent of the side to side motion of a swimming crocodile. I settle again into the front seat comfort of the boat as Captain Sterling explains more about the birds we are seeing and their distinguishing characteristics. The spoonbill is rare and has a unique flattened bill and long skinny legs. The anhinga is sometimes called "the snakebird" as it often swims through the water with only its thin neck showing. The white and brown pelican can be distinguished by their color, with the brown pelican diving head first into the water to catch its prey.
I ask Captain Sterling if he often sees dolphins in the bay and he laughs, telling me of a particularly humorous encounter with a determined dolphin who was fishing while swimming on his back because the water was too shallow for him to fish swimming right side up. Just then, Joy calls out, "I see dolphins!" and we all rush to her side of the boat.
There they were, four of them swimming together and seemingly conducting a little show for us as one would do the occasional jump and dive. "So much for the idea of jumping not being a natural dolphin behavior!" exclaims Captain Sterling.
Captain John steers the boat in their direction and attempts to create a wake with the boat that will entice them to come and play. And play they do as they are swimming along side our boat in no time, dancing with us and watching us take pictures of them. They break off from us as we swing the boat around again. The good-natured dolphins race past us to the front of the boat and frolic together, crossing over and under each other and acting as curious about us as we are of them.
As they disappear once more, we see them cavorting next to the "Gypsy" boat close behind us. We all get our cameras ready and bustle with excitement as Captain John swings around for one last encounter before we head back to our route.
The wild dolphins were so beautiful and sleek, graceful and cunning. I was utterly amazed and wide-eyed with child's wonder at the amazing creatures that had allowed us this precious look into their lives. I was concerned at first that we would harm them with the boat, but was eased when Captain Sterling pointed out how much faster and more adept at moving in the water they were than us. "And that concludes our dolphin show for today," joked Captain Sterling. Already this trip had turned out to be more than I ever could have expected.
As we see the tower at Flamingo in the distance and Dump Key off to our right, I take note of all the animals we have seen so far today. As I am making notes, I see another stingray jump and someone else catch a look at a passing bull shark. I missed the shark but was told that the way to tell a shark from a dolphin is to look for two fins, as the shark's dorsal fin rises above the water while the dolphin's dorsal is hidden below.
Captain John slows the boat to pass through a narrow water bridge through two closely set mangroves. From the "Gypsy," we hear shouts of bald eagle sightings. We saw two large nests atop dead trees by the edge of the North mangrove and slowed to look for the eagles our friends were speaking of. We did not see the eagles and left on our way as Captain Sterling pointed to a small island to our right where all the vegetation had died off nearly eight years ago. It was now almost fully re-grown. I see a wooden box standing on raised legs off to our left in the distance and am told by Captain Jake that it houses a small data collection apparatus that tracks tides and currents in the bay.
We see a few more small boats guided by local fisherman, no doubt working on their catch of the day and the engine block of an old boat that had likely drifted in from the ocean during heavy tides in years past. As we near Flamingo, Captain Sterling points out the blue expanse before us where the islands seem to have drifted apart. "That is the end of the world over there, the Gulf of Mexico," he said.
There is a lone alligator floating by the shore as we pull into the Flamingo docks to fuel up and stop for lunch. He would have to get out of the water and cross over on land to get his next drink, as the alligator's fresh water home was on the other side of the small dam that separated his Everglades environment from the ocean.
At Flamingo, we stopped for lunch and took a look around the park. There is a museum and restaurant near the visitor's center and plenty of Everglades National Park maps and souvenirs to help you remember your visit.
On our return trip to Key Largo, we did see the eagles we were looking for. We also saw a group of about 12 wild dolphins and plenty more birds and wildlife.
On any Everglades Eco-Tour, remember to bring your sunscreen, hat and sunglasses, your camera with a telephoto lens for wild life close-ups, a set of binoculars if you have them and some mosquito repellant if you stop along the way.
Captain Sterling and his crew are available for a variety of tours and can set up you and your and party of 6 or less with a variety of morning, daytime, sunset and night time rides to give you the ultimate Everglades Eco-Tour experience.
This will be one trip to South Florida you will never forget.
Get More Information on This Adventure!!!
Experience adventures like the one found in this article and others by using TropicalAdventure.com Vacation Planner. Simply fill out our Vacation Planner form and you will receive FREE information about this activity and others that you may be interested in. Click below to sign up.