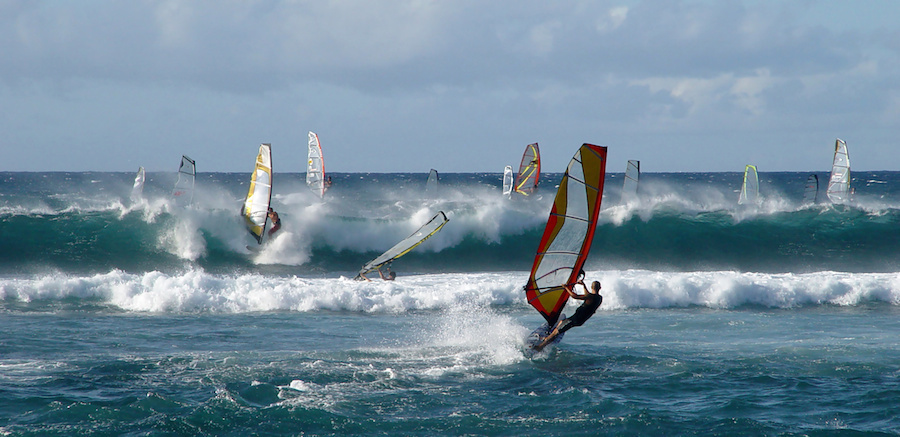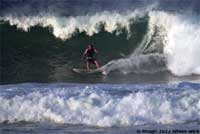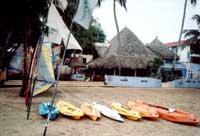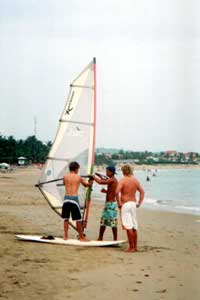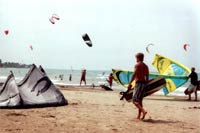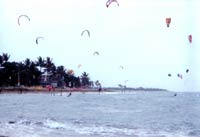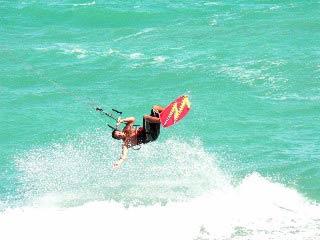 Cabarete hardly misses a beat, even in a pouring tropical deluge. Arrive by taxi along the main coastal route from Puerto Plata on a mid-summer day, and the route into this ever-lively resort town swiftly becomes crammed with traffic—cars, taxis, the local guaguas (mini-vans that make frequent stops), and of course the Dominican favorite, the motorbike. Creating a non-stop congestion as they enter the center of town, all ply their way at maximum speed through the rain along the two-lane road overburdened with the rush to development on this stretch of the Dominican Republic's northern coastline. Still, the spirit that keeps Cabarete pulsing and thriving remains on display along the rain-clogged main artery: surfers dodge past front fenders on their way from boardshop rentals back to the beach, an open air vendor optimistically keeps his place next to his stand selling sunglasses, blond teenagers negotiate earnestly with the owners of motoconchos, a hair-raising means of commercial motorcycle transport.
Cradle, playground, and competitive arena to extreme water sport. A town whose boom has been fueled by air and water, Cabarete remains largely defined by its still-expanding ocean front life. Nothing much interrupts that devotion to the waves here: so even in a passing storm, water sport enthusiasts of every stripe hang out by the bars, sports shops and coffee bars lining the sands, waiting for the sun to break through pearl grey storm clouds before relaunching themselves onto the ocean. Wake up to a flawless day that follows such weather, and though you may expect to see it, you are still transfixed by the profusion of color and motion across and above Cabarete's shoreline: the waters from the eastern side of the bay's curve to its midpoint are dominated by the fast-skimming sails of windsurfers. Overhead, and stretching toward and beyond the western curve, the sky is filled with the curved wing-like form of huge kites, as kiteboarders race across the bay navigating their airborne power source.
Originally discovered in the mid-Eighties as a location for windsurfing thanks to its near-perfect offshore conditions, Cabarete began to attract an even wider mix of extreme sports lover with the advent of kiteboarding (or kitesurfing) as the new millennium arrived. A hybrid born of harnessing surfboard and kite, kiteboarding in the few years since has rapidly evolved both technically and athletically into its own distinct sport. At the same time, other adventure opportunities abound locally, both aquatic and land-based, ranging from more venerable surfing to kayaking, scuba, and inland excursions into the mountains and forests of lush Hispaniola. Still, the growth activity among travelers to this area of the island continues to be kiteboarding, stimulated by a combination of annual world-class events, the solid following among experienced and pro kiteboarders, and the growing number of schools and facilities—all of which in turn bring the novice kiteboarders in droves.
Getting launched: rapid and easy witt expert instruction
So what might a newcomer to this extreme sport expect from a first-time learning experience at Cabarete? One simple overview comes from Jörg Berres, head instructor of the No Work Team kiteboarding school based at Happy Surfpool Windsurfing Center. Happy Surfpool, by the way, is one of the oldest local operators of its kind, having grown from a windsurf school into its present wider range of operations. Its success also inspired the construction of the adjacent Villa Taina, a small well-appointed hotel totally geared to the high-tech and wind sport needs of its globalized clientele. Nowadays, the surf station remains busy year-round with guests, students, and visiting windsurf and kitesurf experts who all rely on the state-of-the-art gear or instruction here. Austrian-born Jörg points westward, indicating a preferred stretch of beach: "We use Bozo Beach, which is just beside the school and a little bit downwind. Then in winter when the waves are too big, we go a little bit further down the curve where there's a nice spot with less waves and good winds." Kiteboarding needs to be taken in easy but careful steps, as Jörg elaborates: "What we do the first day, is just to learn to get control over the kite. We start with very small trainer kites of just about two meters, first on the beach to learn control, and then we continue with tube kites—small ones still. This is still the first stages—learning control of the kite on the beach. The next step is the second day, when we go into the water just with the kite, to learn the pull of the kite."
Progress continues swiftly so that by the third day most aspiring boarders are actually ready to launch into their first solo offshore run, albeit still under careful supervision. "They have to stay under the eye of the school until they're able to go out with the board and come back to the same place," Jörg emphasizes. "Until they're able to do this, they should take lessons or have an assistant from a kite school who is watching, helping them with going out and returning, and just helping them practice. Once they're able to go out alone, then they've learned everything with the school that they need to know about safety." Watch the speed with which kiteboards zip along the waves as you walk along the shore, and you might think it needs considerably more practice, but this is quickly achieved. "They're starting to do that right on the second day," Jörg points out. "They have to get used to the power in the kite–and they do get really powered in the kite, but in the water it's really safe and fun. Here in Cabarete, we have perfect conditions because the wind is right onshore, which means it's quite easy to go out, and it's also very easy to come back!" he summarizes.
In fact, the town is ranked as one of the world's top five kiteboarding and windsurfing destinations, a statistic also reflected in the presence of annual international events in both sports right here along Cabarete shores. As an established hub for windsurfing, the coast waters become the arena for international competition each June with the staging of the World Cup Windsurfing Competition. Around the same time, seasoned kiteboarding pros descend on the town from all points global for the Kiteboarding World Cup at Kite Bay, just west beyond the curve of Bozo Beach. Windsurfers favor the eastern sections of the shores off Cabarete: a busy summer day hereabouts will see windsurf boards of every brand and enthusiasts of every level and nationality out on the sand—learning, getting their gear ready, and getting out onto the waves as quickly as possible. Morning hours are easiest on beginners, but most can soon take on the rest of the day's breezier weather once they have gone through some instruction with one of the several windsurf instruction centers. What are the main points that are difficult to master for the novice? "The balance on the board," answers instructor Judy Dreier, of the popular Bic Windsport Center, located front and center on the windsurfing side of the beach. "But it's only like during the first 15 minutes that they're climbing up and falling down!" she is quick to add. "Then you get used to it, and you're not thinking about the waves. Instead you start thinking no, I can stay up with that sail, and I'll catch the wind." Schools like Bic Windsport not only have their own shop, restaurant area and rentals, but are sophisticated in their instructional methods: Judy, for instance, uses a simulator on the sands that gets newcomers at least acquainted with the range of aquatic motion without tipping while starting to work on their balance. The process is not lengthy: "Normally it's four or five hours with me, and then they can really go out and enjoy the best places around here," she notes. "Usually when you begin, you're going along with the water's current, and then you have to come back. So that takes around four hours to learn."
Other adventure and blissful relaxation
Finally, for the slightly more traditional minded, just a five minute drive outside of town lies legendary Playa Encuentro, a beach known throughout surfing circles for its own outstanding conditions. Boards and lessons are available through a variety of companies in Cabarete, with each providing the board, instruction and transportation as needed to and from the town center. Additional surfing spots to look into—provided you have the experience (no lifeguards present)–are Playa Grande and Playa Preciosa just east of Rio San Juan and Playa Boba north of Nagua. Having attracted legions of extreme water sport followers from across the globe, Cabarete has also seen the expansion of its eco-adventure side move along with equal speed. Nowadays, outdoor enthusiasts arrive to also sample the range of activities that include mountain biking, rock climbing, hiking, and horseback riding. With an extensive amount of national park land, there is much to explore and try out in the nearby lush Dominican interior; among the most popular destinations is Pico Duarte, the highest mountain elevation in all the Caribbean at some 10,128 feet above sea level, and a challenge requiring stamina and strength. However, outings from soft to extreme are all available from experienced and versatile operators such as Iguana Mama Tours, the long-time leader in providing just about any type of land-based adventure anyone might want to sample. Having a knowledgeable outfitter such as Iguana Mama take care of all the details, from permits to guides, food, supplies and equipment, allows the traveler to focus entirely on the vivid, exhilarating experience of the trek, bike, ride, or occasional plunge into pools and streams enroute.
Still a fairly compact small town, Cabarete's finest feature remains her still pristine if often busy miles of strand, idyllic water and wind conditions, and the resident professionals who work to make it all come alive successfully for arriving travelers of all kinds throughout the year. While it can certainly be useful to check in advance on every aspect of a visit here—from accommodation to lessons, facilities to events—this Dominican north coast resort seems destined to continue as a dynamic and growing presence with much to always offer the wide range of water sport lovers drawn by the promise of fine conditions and after-hours fun experience.
Arriving:
By air – flights arrive into Puerto Plata's international airport from across Europe, North America and other Caribbean points. The airport is just a 30 minute ride by taxi or car from central Cabarete further to the east. Other transport – Dominican coach lines Metro and Caribe Tours offer dependable daily scheduled service from Santo Domingo.
Where to stay:
Villa Taina – chic, efficient, wired, 57 stylish rooms and studios with terraces, the place to relax with access to some of the best wind sport instruction, all while being central in Cabarete. www.villataina.com; Tel: (809) 571-0722
Schools
Happy Surfpool – Windsurfing, kiteboarding, kayaking. Tel: 1-809-571-0784; www.happycabarete.com
Carib Bic Center – Windsurfing instruction, equipment. Tel: (809) 571-0640; www.caribwind.com
Eco-adventure: 
Iguana Mama – Tours inland by mountain bike, treks, horseback riding, canyoning and cascading; Tel: (809) 571-0908; toll-free in the U.S. at 1-800 849-4720; www.iguanamama.com;
More media:
Several websites provide news, links and information on Cabarete, the local water sport scene, or accommodation – check out any of these: activecabarete.com; carbaretekiteboarding.com; Hispaniola.com.

Get More Information on This Adventure!!!
Experience adventures like the one found in this article and others by using TropicalAdventure.com Vacation Planner. Simply fill out our Vacation Planner form and you will receive FREE information about this activity and others that you may be interested in. Click below to sign up.