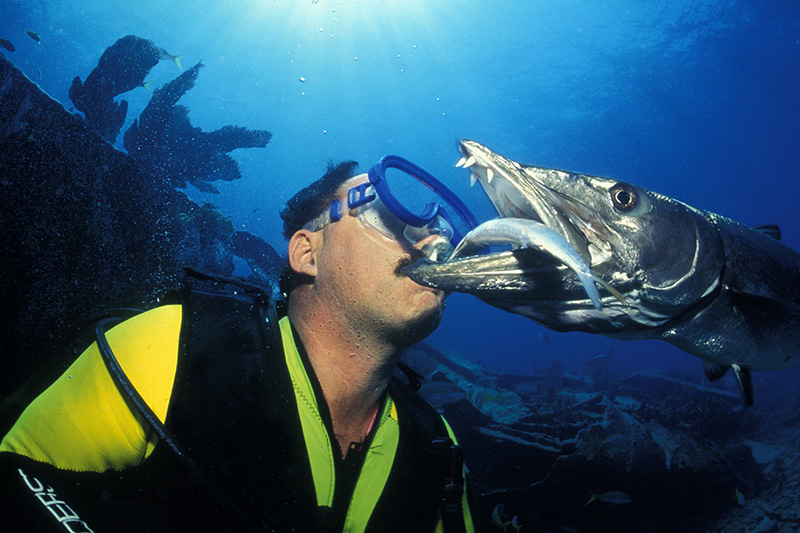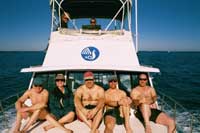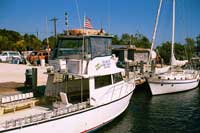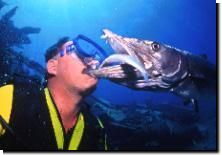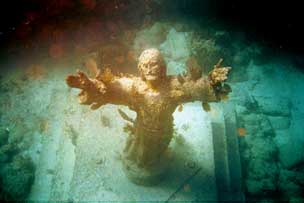 Every Friday morning, the team at Captain Slate's Atlantis Dive Center sets out with a group of visitors to the Florida Keys National Marine Sanctuary for Captain Slate's world famous "Creature Feature" adventure dive. For nearly 25 years, Slate has been feeding barracuda, moray eel and nurse sharks in the protected reefs of Key Largo and teaching divers to appreciate these creatures instead of fear them.
"It is educational to take first time divers out for the feeds. We touch them as they swim by and hold the eels in our arms. It teaches new divers that these things you learn in diving to regard as potential hazards are fairly harmless and could really care less about us," said Captain Slate.
Captain Slate has been on 60 different cable networks through the years because of these feeds including the Discovery Channel, the Travel Channel and even Ripley's Believe It Or Not! for his mouth to mouth fish feed with hungry barracuda. He holds up a mask that a barracuda had once taken a bite out of. "Luckily I only ended up with a black eye," said Slate. "Sometimes it happens, it's a crazy trick."
Slate learned to perform these stunts from Steve Klem, a retired diver now in his 80's and a founding leader in the industry. Slate continues his feeds in the same areas Klem frequented many years ago. "Some of the moray eels have stayed in the same area for 8 years, and some of the sharks for 2 1/5 – 3 years. We see them come and go," says Slate.
Marine life has thrived since the establishment of the sanctuary preservation zone, or SPA, as a no-take zone. The SPA is the only area in the Keys where spear fishing is not allowed, besides a small area off Big Pine Key called Lou Key. Protected by both state and national government, 180 square miles the upper keys, including 22 miles of shoreline, 6 miles out and 300 feet deep into the ocean is alive and flourishing.
The marine life at the National Marine Sanctuary and John Pennekamp State Park is one of the most beautiful and plentiful in the Keys. "The rest of the Keys are beautiful," says Slate, "but you don't see fish anywhere else in the keys like you see here."
Atlantis Dive Center frequents sought after dive sites like the 510 foot long "Spiegal Grove," the longest ship purposefully sunken to create an artificial reef for the protected fish of the National Marine Sanctuary. In the years to come, this site will become a coveted home for all types of coral and marine life and serve as a special place to spot larger types of fish enjoying the protection of its expanse. Other sunken ship dives include 327 foot long sister ships, the "Duane" and the "Bibb."
A favorite spot among snorkelers in the National Marine Sanctuary is the "Christ of the Abyss" statue. This 9 foot tall, 2000 pound statue of Christ was a gift in 1966 from the Italian Dive Association in commemoration of all who had lost and would lose their lives at sea. With arms outstretched to the heavens and face tilted towards the sunrise, this statue is a special site to Christians, other believer's and even non-believers who experience the statue's serene beauty and the moment it offers to consider Christ's peaceful message.
Captain Slate has been performing underwater weddings at this site since 1978 and currently holds the World's Record for number of divers in attendance at an underwater wedding service. This practice has become so sought after, Slate has found himself performing wedding ceremonies for enthusiasts both under and above the water nearly every weekend.
Atlantis Dive Center is also an internationally recognized training facility with full certification credentials for first time or master divers, re-fresher courses and a college for dive instructor training.
Captain Slate's Atlantis Dive Center offers South Florida's largest fleet of snorkel, scuba charters and glass bottom boat rides in the Florida Keys. Discover John Pennekamp Underwater Coral Reef State Park and Key Largo National Marine Sanctuary with Atlantis Dive Center and experience the fully protected and only living coral reef in the continental United States.
Visit Captain Slate at the 106.5 Mile Marker in Key Largo, Florida or call 800-451-DIVE and don't forget to tell them you learned about them at TropicalAdventure.com. If you'd like, check out Captain Slate's website: Captain Slate's Atlantis Dive Center
Get More Information on This Adventure!!!
Experience adventures like the one found in this article and others by using TropicalAdventure.com Vacation Planner. Simply fill out our Vacation Planner form and you will receive FREE information about this activity and others that you may be interested in. Click below to sign up.