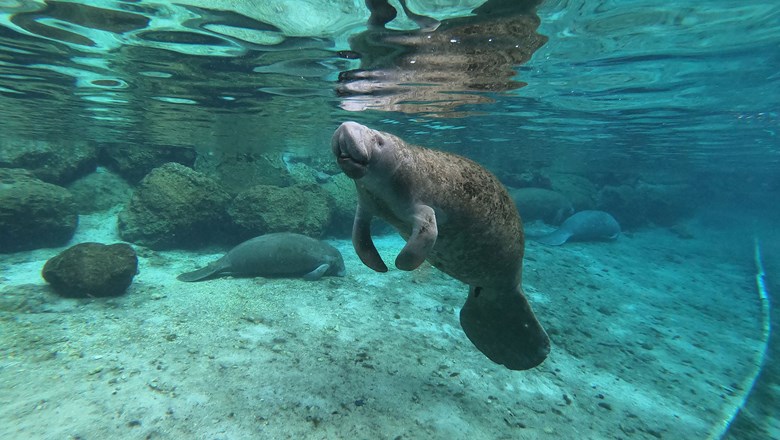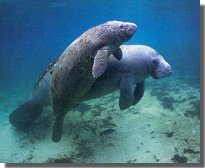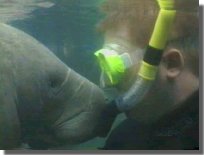 Ken and Julie Wolf, the owners of Orlando Dive and Snorkel, moved from the Tampa area to the Florida Keys 15 years ago, and learned to scuba there. It was love at first site of the beauty of the oceans. They left their jobs and started working in the scuba industry full time. They advanced in their training and brought their knowledge of the diving world & business to Orlando (not a typical dive destination, & land locked).
Ken and Julie began offering personally guided dive & snorkel day trips to all the Florida springs including the manatee snorkeling. People loved the personalized getaways. They have scuba lessons for any level and the guest come back year after year. Ken and Julie teach their children and its a great family participation sport. They have been in the Orlando area for 8 years have daily manatee tours in the Crystal River and the Rainbow River on our dive boat "Spring Fever".
Manatees are gentle and slow-moving. Most of their time is spent eating, resting, and in travel. Manatees are completely herbivorous. They eat aquatic plants and can consume 10-15% of their body weight daily in vegetation. They graze for food along water bottoms and on the surface. They may rest submerged at the bottom or just below the surface, coming up to breathe on the average of every three to five minutes. When manatees are using a great deal of energy, they may surface to breathe as often as every 30 seconds.
This  is what one family has said about the Manatee trip. We arrived at 8am to meet the boat. Our family was excited, we had never taken a manatee tour before. I don't swim, but my 6 year old daughter and husband encouraged me to go. It turned out to be the most exciting thing our family did on vacation. The manatees were all around the boat and my daughter just knew they loved her, she was so happy, they loved to be scratched and petted and I got this great picture of my husband nose to nose with a manatee. We could not have asked for a better trip. Orlando dive & Snorkel tours provided a great tour, very informative about the manatees and professional in every way. If you are thinking about signing up for a tour "go for it " it will be unforgettable. So if you are in Orlando, you need to call and say hello to Ken and Julie and experience a day you will never forget.
You can call (352)795-7033 for more information.
Get More Information on This Adventure!!!
Experience adventures like the one found in this article and others by using TropicalAdventure.com Vacation Planner. Simply fill out our Vacation Planner form and you will receive FREE information about this activity and others that you may be interested in. Click below to sign up.