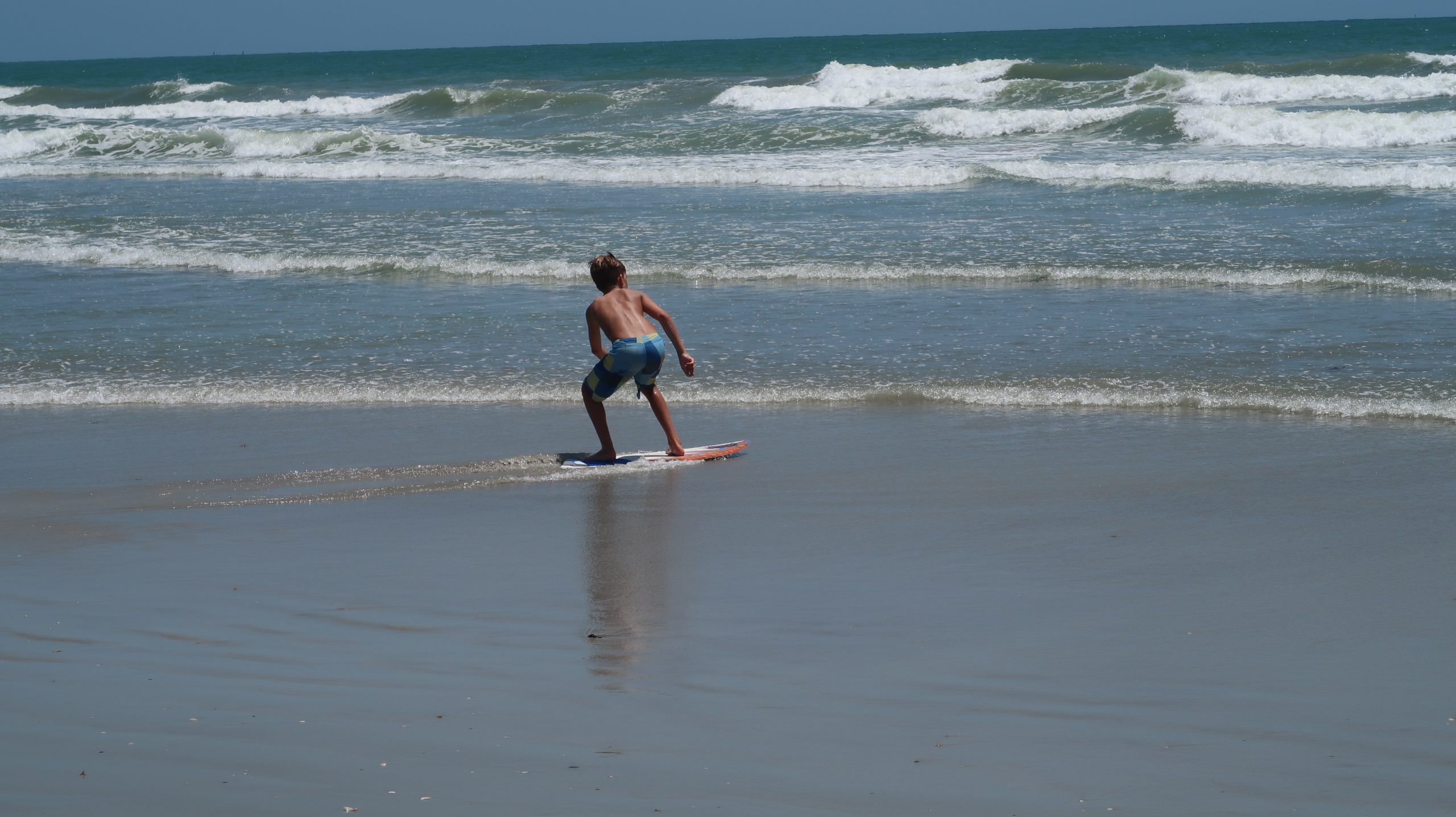 If you love rockets and the beach, then Cocoa Beach Florida might be the place for you and your family.  My family and I made a plan to come here to see the Atlas Mars Unmanned rocket launch in July. Cocoa Beach is a popular beach spot for watching the launches and for local Floridians to get away for breakcation.  Of course, it could be a destination for you, too. We stayed a nice hotel / timeshare on the beach that could easily hold 6 people comfortably, discovered fun things to do while here, and ate some delicious seafood (and other cuisine).
Discovery Beach Resort
Most people don't want to stay in a timeshare hotel, but we loved it, especially since we had a large group of 5 people. Our accommodations had 2 bedrooms, 1 with a king-sized bed and one with 2 twin beds, and also a pull-out couch in the living room that fit 2 people. The room had a nice size kitchen and all the utensils you would need to easily prepare and cook meals.
The reason I said that most people don't like timeshare hotels is because there is no maid service to change out the linens and towels or make the beds daily.   We did not mind using the same linens and they gave us plenty of towels, including bathroom and beach towels.  Yes, we had to make our own beds each day, but that's not an issue for us since we are bed makers at home.
The pool was not the biggest hotel pool I have seen but it was never crowed. Most families that come here are here to use the wonderful beach. The hotels and resorts are not right on the beach, there is a small walk through small sand dunes and beach grass. The beach is really wonderful here, with white powdery sand that turns into hard packed sand to walk, run, play or even ride a bike on. Then the water usually has small wonderful waves, about 3 – 4 feet to body surf to play in.  I really enjoyed jumping into the pool to clean off from all the salty ocean water.
There is a good size workout room but we never used it. Also, there is an in-house restaurant and outside tiki bar that we never used, but they both looked very inviting. The front desk staff are very friendly with great local advice, where to eat and what to do in the area.
Discovery Beach Resort
300 Barlow Ave
Cocoa Beach, FL 32931
(321) 868-7777
Things to Do Nearby
There were plenty of activities in the area, but here are some we enjoyed and recommend:
Rocket Launch
A good reason to come to Cocoa Beach is to see a rocket launch from Cape Kennedy. Staying at Discovery Beach Resort makes it so easy to see a launch.­­­ You would just walk out to the beach and plant your chairs there and look North and wait patiently for the launch.
Daytime launches are really special but if you really want a treat, you need to see a nighttime launch. I have seen both and the nighttime launch is an experience I have not forgotten (and probably never will!).  Many visitors to Cocoa Beach go to Jetty Park which is a fun place to watch the launch, but there are many options to watch the launch. You can go to Kennedy Space center and pay extra to see a launch up close. This would really allow you to feel the power and rumble of the engines at the space center. You can see the launch from almost anywhere in Cocoa Beach, but some spots are better than others. Remember, the launches do get postponed and cancelled at times because of weather conditions, so you need to be flexible and don't get too upset when it happens.
Kennedy Space Center Launch Calendar
Island Boat Tour
If you want to see some wild dolphins and manatees and the wonderful coastline, Banana River and 1000 Islands, you would want to take the slow boat tour or rent Kayaks. Since I came with a large family, we decided to take keep things simple and take the 2-hour island boat tour.
The boat leaves from the Sunset Grill dock on the Cocoa Beach intracoastal waterway. Parking is free and we hopped on board for our guided tour at 10am. This tour is only offered once a day from 10am to 12pm. The guide talked about how Cocoa Beach was settled and told us about the birds and all the wildlife. We did see a manatee and a few dolphins jumping in the waterways.
The adults and older kids enjoyed the tour but my 8-year-old daughter was a little bored the last half hour. It was a little too slow for her. She wanted the boat to go faster but this tour and the manatee zone are very slow boating.  The price is very reasonable, $35 per person, and the boat goes out every day, weather permitting.
Cocoa Village
This is a spot where most tourist don't go to because it's not on the beach. This is the original downtown of Cocoa Beach, which is on the mainland off the 520 road that leads from the beach to the mainland. This is a small but interesting section of the area. You would park your car at the many parking spaces and walk about and explore the old downtown. We did it during the evening so the cool intracoastal breeze was blowing and keeping us cool. It was a really nice summer evening and the family really enjoyed the stroll through the town. There are many restaurants, Italian, Thai, German and others. In the center of the town there is an ice Cream Shop we enjoyed called the Village Ice Shop. They were really nice to us. We dropped one ice cream cone and they made us another one at no extra charge.
Village Ice Cream & Sandwich
Address: 120 Harrison St, Cocoa, FL 32922
Menu: villageicecreamshop.com
Phone: (321) 632-9808
There is a fun German restaurant playing live music that fills the air with German sounds. If you like big beer steins and German food, this might be the place for you. Near the restaurant is a wonderful park where you can sit and eat your ice creams, listen to the German music and have your children play in the safe playground. There were quite a few children playing and running around. The park has big shade trees to keep you cool from the Florida sun.
Rent Bicycles
We rented bicycles from A1A bike rental, 2 beach cruisers for my daughter and I. They delivered the bikes to the hotel for an extra $5. The bikes cost $15 a day for each bike. You have 2 nice bike rides in Cocoa Beach to choose from: one right on the Beach and another on the bike lane on Ridgewood Ave.
For all the years I lived in Florida, I never rode a bike on the beach. The beach here in Cocoa Beach, during low tide, is a big packed large sand lane, so you can ride a bike on it without any issues.  We rode our beach cruiser bikes along the hard-packed sand from the hotel to the Jetty Rocks, north of the hotel. The wind was to our backs, so the ride down was easy and fun.
I always enjoy people-watching while on the beach and really enjoyed the ride, about 20 minutes to the rocks. The ride back was a little tougher, about 45 minutes to get back to the hotel. The ride was a workout because we were peddling into the wind. The bike shop told me if the wind was too strong to take Ridgewood Ave back, which runs along the beach. Here, the wind is blocked by all the hotels. I decided to go for the workout, which I enjoyed. If you decided to rent the bikes, you can only ride the bikes during low tide, so you might want to check this before you rent them. 900 N Atlantic Ave, Suite Beach Shack Cocoa Beach, FL 32931 (321) 505-7455
Eating in Cocoa Beach

Florida Seafood Grill
The Florida Seafood Grill was a recommended to us by the staff of our hotel. They told us, "You will get your bang for your buck here", which means you get a lot of food for your money. But they forgot to mention the food was delicious and the service was great! We ordered only appetizers for our family, 4 dishes and it was plenty of food for all of us.
The clam chowder bowl was a large round bread loaf and the inside was carved out to make a bowl and to pour the soup in it. The soup was incredibly tasty and the bread was really fresh. We also had a large Greek Salad, fresh and yummy, and the Shrimp Brochette and fried spicy Shrimp/Calamari. We devoured all of it. The whole bill was under $70 and that's including drinks. We were totally satisfied and wanted to go back again but resisted because we wanted to try other local restaurants.
Florida Seafood Grill
480 W Cocoa Beach Causeway
Cocoa Beach, FL 32931
(321) 784-0892
Rusty's Seafood and Oyster Bar
Another great restaurant we ate at was Rusty's Seafood and Oyster Bar. The place had a great view of the Cocoa Beach Inlet where all the cruise ships stay before sailing off on their Caribbean voyages. My first impression was, all view but not so good on the food and the drinks. We went for the early bird dinner special, $12 for a dinner, steak, chicken or fish. As long as you get there before 6pm, you can get this early bird special. We were trying to save a little money on the trip, so this might be an option for you if budget is a concern.
Boy oh boy was I proven wrong, the food was really good, so you get both an incredible view and delicious food. I say it's a 2 for 1 experience. As appetizers we had the Seafood Au gratin and the Calamari – both were delicious.  The Seafood Au gratin was really special because it is an appetizer you don't see too often on the menu.  The dinners were really fresh and wonderful, the steak and fish were good-size portions with plenty of fresh vegetables or potatoes. Our bill was under $80 for all of us. The service was spot on also, so this gets a thumbs up from the group and myself.
Rusty's Seafood and Oyster Bar
628 Glen Cheek Dr
Cape Canaveral, FL 32920
(321) 783-2033
Conclusion
All-in-all we had a really relaxing and incredible 4-day breakcation, away from the South Florida hustle and bustle and enjoyed this wonderful Florida coast of Cocoa Beach. There are many places to stay on the beach in Florida, but Cocoa Beach was a great choice for us. The hotels are plentiful, good activities, wonderful beach and ocean, and really good food. We hope to go back again soon. We will hopefully get to come back to this wonderful area of Florida for the next rocket launch. Now that Mars is the next mission for NASA, hopefully there will be many launches and good reason to come back again and again.