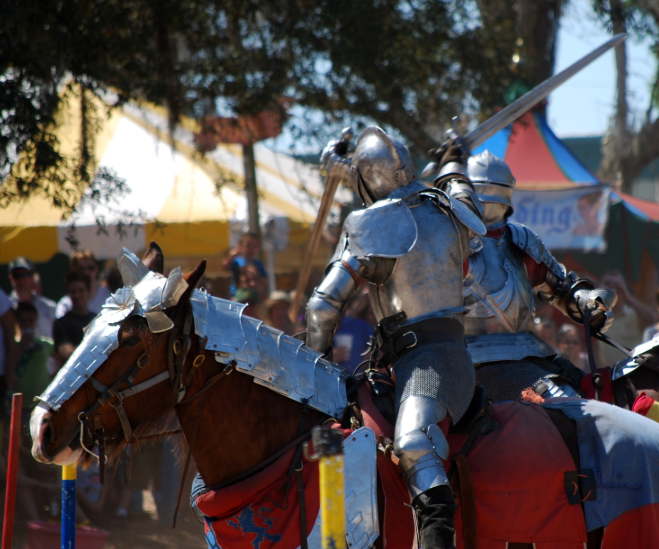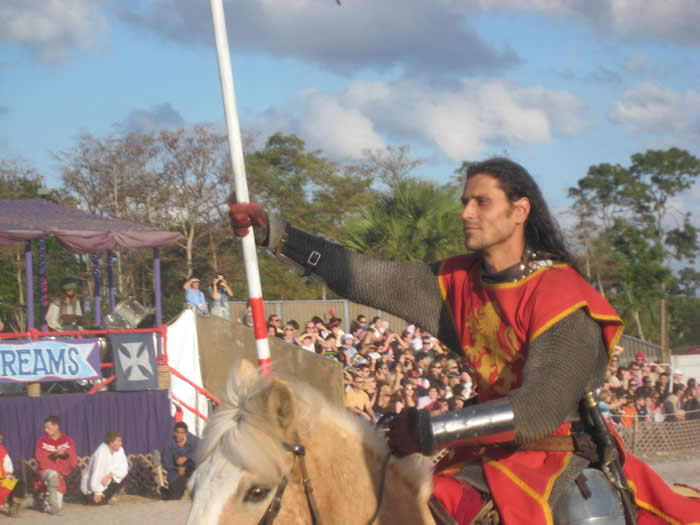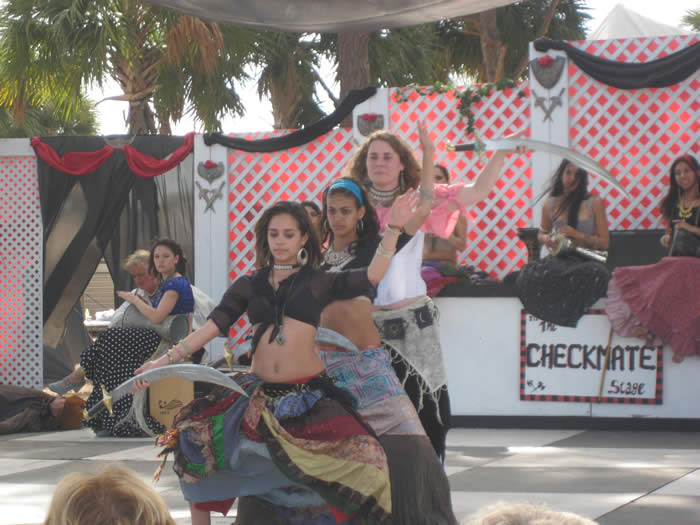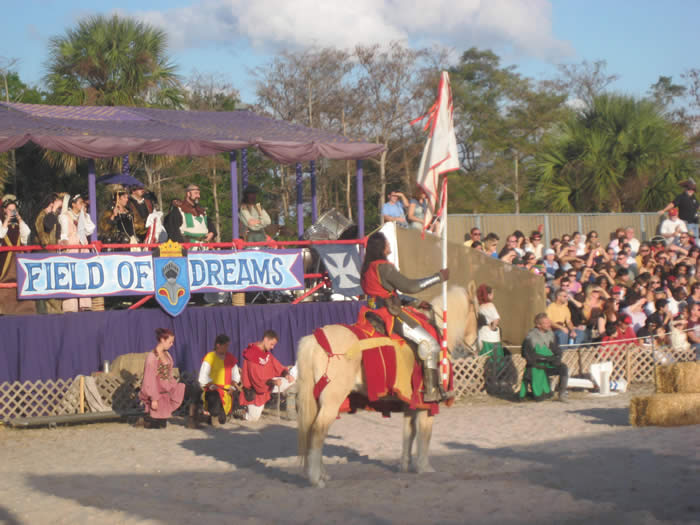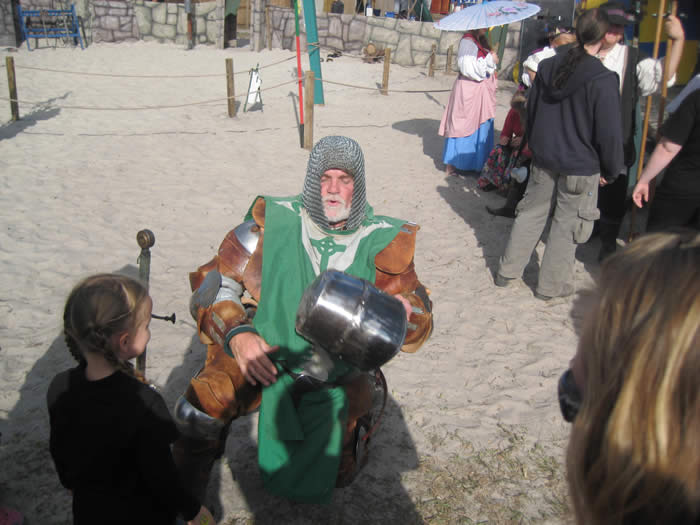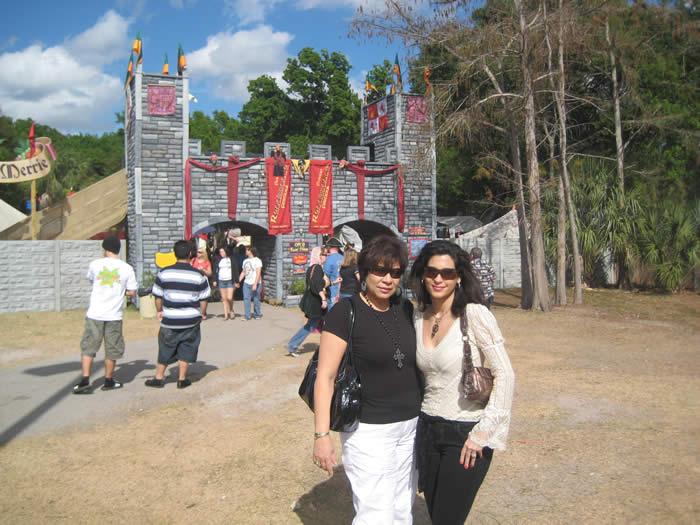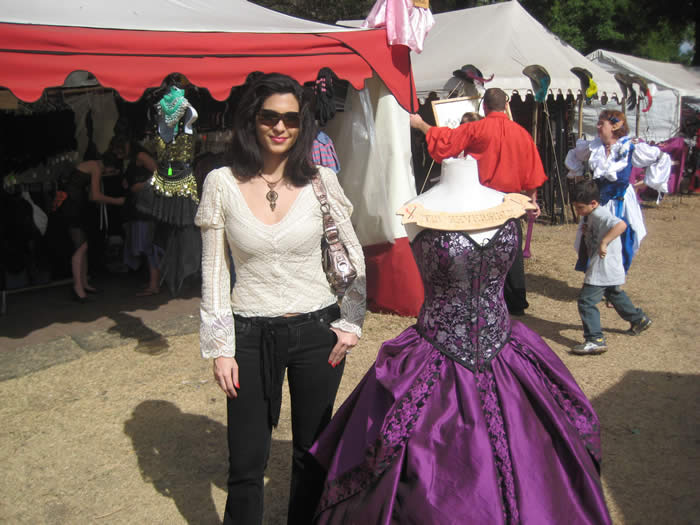 Growing up I always held a fascination for the English Period, so when I was invited to the Broward County and Florida Renaissance Festival was so excited to attend and anticipated a great day. This festival is held in February of every year in a Broward County park and this year it was in Quiet Waters Park, Deerfield Beach.
On entering the festival, I was transported immediately into my favorite period, The Medieval Era. My eyes could not hide my excitement, as everyone strolling by, held my interest. There was such an array of beautiful costumes, a feast of colors to the eyes. One eyed swashbuckling pirates, the fierce one legged Long John Silver passing by slurping the keg of ale through one side of his mouth, swaggering by were large busom wenches in boots and tightly corseted tops, the knights with their armors, swords and shields, I could not contain my excitement and asked to be photographed with my favorite knight, the gallant King Richard. There were also the Lords and Ladies strutting by in colorful costumes, nodding their heads and addressing each other as my Lord and Lady, the jolly Friar Tuck, sliding through the crowd, begging alms and the delicate fairies flittering by all added to the wonderful ambiance of the fair.
My first stop was watching the gypsy dancers, gyrating their hips and showing their fanciful footwork. It was a joy to watch and the audience participation made it that more interesting.
The next stop was the feeding of the big ferocious hawk and owl. We got to observe them in their natural habitat. The hawk with his huge talons clasp on the arm of his master was an impressive sight.
There was food and drinks lining both sides of the village, and in between were stalls with people trying to sell their wares, jewelry, love potions, costumes, tattoos etc. people skillfully strumming the harp and playing the flute, it was a harmonious setting; hearing and listening to the gentle music of old. People could be seen trying their hands with close hand combat, sword fighting, archery, knife throwing and many others. There were also shows going on like the mud pit fighting, but I was more interesting in getting to the highlight of the day, the jousting contest.
This show was so crowded that there were not enough seats for the audience. This did not deter me, as I pushed my way to the front, so that I could get a better view. The contest was between the Spanish knight and the English knight and their respective armor bearer, pitting their skills against each other. Each had their own audience shouting and cheering for their favorite knight.
There was a special box that housed the king, princesses, maidens and the royal entourage and when they entered, there was a royal fanfare announcement and the audience cheered when each knight paid homage to the king and maidens. They stretched their long lances out to receive their maidens cloth; with the trumpet blowing, the white cloth dropping from the king's hand indicating that the contest should begin, The knights galloping on their steeds charged towards each other; with lances outstretched and techniques displayed they clashed; the Spanish knight delivered a blow to the English warrior, loud cheering and booing from the audience; all building to a great crescendo. What a show. I will not tell you any more details, as I urge all to see this entertaining, educational, and refreshingly unique fair. You will not be disappointed.
Eat, drink and be merry was the theme. We were taken back to a time when chivalry reigned, even if it was only for a fleeting moment. It was a great diversion from the realities of our times and I can honestly say that I am looking forward to visiting next year, this time, I too, will be wearing a costume, so that I can immersed myself in the culture of that great past.
Florida Renaissance Festival 
http://www.ren-fest.com/
Get More Information on This Adventure!!!
Experience adventures like the one found in this article and others by using TropicalAdventure.com Vacation Planner. Simply fill out our Vacation Planner form and you will receive FREE information about this activity and others that you may be interested in. Click below to sign up.