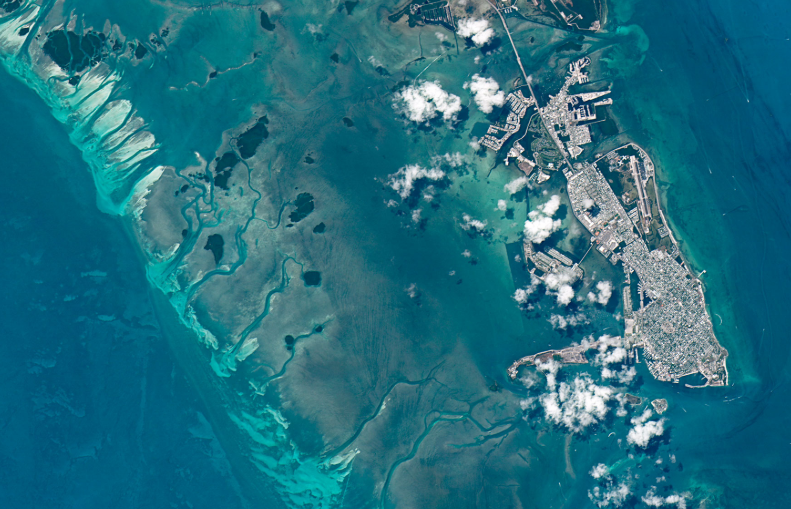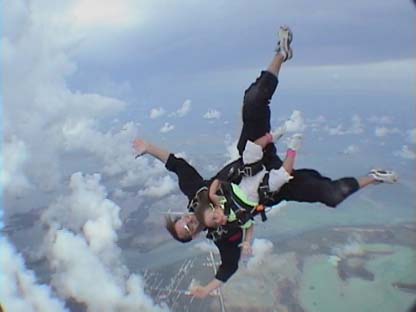 My wife Shelly and I run a small Drop Zone just outside of Key West, Florida.
My name is Christian, I do the tandems and she does the video jumps. Our daughter Skylar was born 12-22-98 and ever since, she has been the center of our lives.
Both of us being passionate skydivers with over 10,000 jumps between us, it was a natural desire to take Skylar up with us on a jump as soon as we felt she was ready for it.
We agreed on that fact, that we wanted her to ask for it, rather then being pushed into it at all. We also felt that we could prepare her for her jump by slowly introducing several somewhat related things to her. Since my wife is a pilot, we had taken Skylar up in a Cessna 172 to fly around Key West when she was as little as four days old. In fact, I kept a little log book on her flights, and she now has about 50 hours in single engine aircraft and helicopters. So we were very confident, that the flying part of our adventure would come very natural to Skylar. But we also tried to do other things like driving convertibles to get her used to the wind; we took her to vertical windtunnels, where she didn't fly herself but where she got to experience the wind and a similar noise level then in an aircraft.
We've have always included her in everything we did, so she was used to the 'tandem' type attachment; I have rollerbladed and skied with her in a harness in front of me ever since she was a few months old. The most important part in the preparation though, was to take her parasailing tandem repeatedly, which is very similar to at least the canopy ride. The months before her jump we went parasailing numerous times and she was always very comfortable with it and asked to go again.
Skylar was raised at the Drop Zone; we had a friend watch her when we jumped, so she has been around jumping literally all of her young life and has shown great interest in watching the freefall videos, especially in the past year. She must have seen a couple thousand jumps on TV by now.
On 7-11-01 after 18 years, the FAA finally recognized tandem jumping by including it in the federal aviation regulations. There is no reference to a minimum age of the tandem passenger anymore, so the eleventh of July would be the first day where we could legally take Skylar up on her first jump.
We felt that Skylar was well prepared, she expressed that she wanted to go with us and we were confident that she was ready.
When we got up in the morning of the 11th, it wasn't a perfect day; it was overcast and we decided to wait for a better day – everything had to be just perfect. Just because the 11th of July was the first day that we could legally jump with our daughter, it was certainly not the last and so we put it off to an unspecified time in the future.
A few days later, I learned that a Dutch tandem instructor by the name of Herman Landsman had made a jump with his 2 ½ year-old daughter Demie. Let me briefly explain our motivation to jump with Skylar. My first thought was, that if I was going to get run over by a car tomorrow and would never be able to skydive again, I would always regret not having jumped with my daughter. My wife and I also felt strongly, that an experience like this would greatly benefit our daughter's self esteem; when she is an adult, she'll always feel how important she was to her parents and having been the world's youngest skydiver, certainly wouldn't hurt her self-confidence.
So while the most important reason for the jump was Skylar, it was also a nice vanity that she would be a world record holder. So I was a little upset to learn about Demie's jump, but then decided to make the best of it. I called Herman in the Netherlands, because who in the world would be able to provide me with better information about a jump with such a young child then him?
Herman was very helpful and informative on the telephone. We spoke for about 40 minutes and I gained even more confidence about jumping with Skylar. I also learned that Demie would turn three in September, which makes her three months older then Skylar and would buy us some time, where Skylar could still be the youngest jumper in the world.
In hindsight, I was happy for Demie, her mother Karina and Herman that I hadn't jumped on 7-11. This way Demie at least held the world record at some point, our daughter could then take it over and who knows who is going to jump next, that's even younger then Skylar.
Anyway, after this unexpected event and the added information that I had gotten from it, we were finally ready to do it on 7-21-01. I had made six tandem jumps that day, the winds hadn't changed all day, they were light and out of the south. My wife also felt good about the conditions and we made a decision to go.
Skylar had tried on the harness that we had prepared for her at home a number of times, so gearing up was pretty uneventful but of course Shelly and I were slowly getting nervous, even though we had planned this day for such a long time.
We had agreed on jumping from 8000 feet and I was going to deploy the drogue after only a five second freefall and the canopy immediately thereafter. We weren't sure of Skylar's reaction to the wind of 120 miles per hour, so we would take it easy on her first jump and then on future jumps increase the freefall time. Shelly was to climb out before us in order to take pictures and video the jump.
So we geared up and I hooked Skylar up before we even boarded the aircraft. The way up to altitude was a walk in the park. We are so used to flying together, we were talking, laughing, looking out the window. All of a sudden it hit me at about 5000 feet – I got nervous! Having made 5500 tandem jumps to date, this was unquestionably the most important one of my life. What if she wouldn't like it? But Skylar sat in my lap so relaxed, I tried to hide my feelings, so that she wouldn't sense them.
When we opened the door, it was windy and noisy suddenly; Skylar didn't like that at all and I had a doubt as of whether I wanted to go through with the jump.
At this point, Shelly had already climbed out and could see our daughter's face much better then I could. She was waving at me to go, so I just moved into the open door. We rolled out of the plane and what came next was just the most amazing experience for me. Skylar relaxed instantly. My wife said later that she could see it, too. I felt so good about everything, I decided to change the plan: instead of opening the parachute right away, I kept on freefalling for about 20 seconds. We later regretted only having gone to 8000 feet. Next time we would certainly go higher for Skylar to have a longer freefall. Skylar sensed that something was different when I opened the parachute and tensed up for just a couple of seconds. It was absolutely beautiful and amazing to me, that she then relaxed immediately when the canopy was open. When we had gone parasailing together, she had always been a bit tense when we launched, but mellowed out about a minute into the ride. Here she was comfortable instantly.
I pointed out her Mom's parachute which she had seen so many times from the ground. I showed her Key West from the air, our house and other landmarks that she was familiar with. Then I did a 360 degree turn and asked her where she thought our house was. She had no trouble finding it. She gave me a kiss and together we watched her Mom's landing.
I was a little apprehensive about our landing, but with her only weighing 32 pounds and a 5kts breeze, it turned out to be beautiful. Shelly ran up to us and Skylar gave her a high five and a kiss.
Apart from opening the door, she was never upset. And think about it: most any normal person is nervous when that door opens! She now talks about her experience much like she talks about parasailing or driving in a Jeep – it's something enjoyable to her that she would like to do again. She wanted to jump again today, but it is raining, much to her dismay.
Shelly and I decided that we would like to take her up every year on her birthday, but I'm not sure whether we can wait that long………
SKYDIVE Key West-Click Here for More Information – Key West, FL
See the Keys from two miles up, at 120 MPH or more! USPA Certified Instruction, 100 % Safety Record, 10,000 Jump, 40 Second Free-Fall, 5.5 Minute Canopy Ride, Video & Still Photos of your jump are available!
Get More Information on This Adventure!!!
Experience adventures like the one found in this article and others by using TropicalAdventure.com Vacation Planner. Simply fill out our Vacation Planner form and you will receive FREE information about this activity and others that you may be interested in. Click below to sign up.