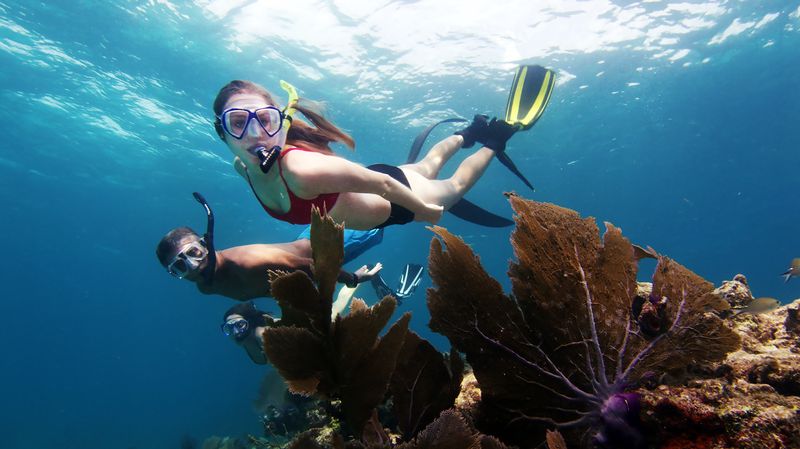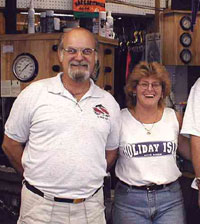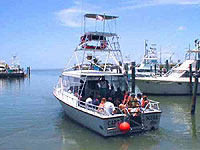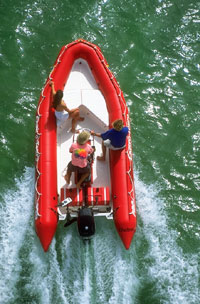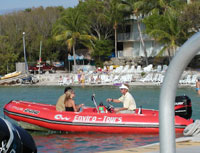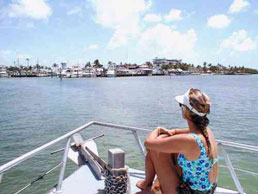 Not so far away there is an exceptional getaway, The Florida Keys. It's an extraordinary place full of intriguing history, geology, wildlife, and adventure activities.
History
The Keys extend south from the southeastern tip of Florida then west to the Dry Tortugas. Discovered in the early sixteenth century by the Spanish the islands were populated at an early date by the Caloosa Indians. The British followed the Spanish and settled in the Keys for the fishing and turtle hunting. Bahamians developed the wrecking industry in the early 1800's. Farming was also an industry in the upper Keys, when Methodist fisherman began growing pineapple, coconut and melon. The Overseas Railway was built, and the bridge connecting Florida to the islands was updated in the 1930's. Both the railway and the bridge contributed to today's tourism and commercial fishing economic success.
Geology & Climate
The Keys are, in essence, coral rock deposits. The islands of the Keys have accumulated over the years, upon on a skeleton coral reef. The waters around the land are very shallow. Those waters offshore are just an introduction to the gorgeous deep blue waters found a short distance from the coast. Sandy beaches in the Keys are few and far between due to the reef that extends up to five miles off shore. There is also a void of waves along the coastline, not good news for surfing souls.
The weather in the Keys is very typical of a subtropical region. Closely surrounded by water, the islands are humid, and tend to be five to ten degrees warmer than the mainland of Southern Florida in the winter months, and five to ten degrees cooler in the summer months. Although humid, the islands do not get as much rain as the mainland, and can even be a bit dry.
Flora & Fauna
The flora of the Keys is a bit varied from that of mainland Florida. The Australian pine trees, which were imported from Australia years ago, are taking over the landscape in the Keys. You will still see plenty of palm tree including coconut palms. In addition, near the water, you will encounter red, black, and white mangroves every direction you turn. While there's the gumbo limbo, which isn't so popular, the ever appreciated key lime remains. The islands are very well known for their key limes, which make unforgettable tropical pies, especially when they are picked fresh off the branch.
Wildlife
Protected by the only living coral reef in the continental United States, the Florida Keys is abundant in wildlife both on and offshore. Offshore, the reef gives life to hundreds of varieties of fish. On-shore, the Keys beam with life also. Birds thrive in the skies. Pelicans, egrets, ibis, blue herons, cormorants, and many other bird species can be seen often. The man made nests built on top of abandoned telephone poles are especially for nesting ospreys. The effort at assisting these spectacular birds demonstrates the level of respect the people of the Keys have for wildlife.
If you don't have much time to spare, the one place you should go to see the spectacular bird life of the upper Keys, is the wild bird sanctuary. Located on the gulf side of Key Largo, the sanctuary rescues injured birds from the islands, and is home to birds of all types, including wood birds, which can be seen decorating the trees at the entrance. For a small donation, visitors may tour the facility for a close up look at some unique birds.
For encounters with other wildlife, swim with the dolphins at Theatre of the Sea marine park, where sea lions, sharks, stingrays, and sea turtles also make home. Guests to the park can also visit with injured and disabled species, such as blind crocodile
Activities
Nature lovers could spend months in the upper Keys and never get bored. For first time visitors, a trip to Lignumvitae Key State Botanical Site is worth the effort. The location is full of unforgettable, gorgeous foliage. Capt. Sterling's Everglades Eco Tours in Key Largo offers eco tours in the Everglades. Their guided boat tours are environmentally focused, and take only up to six people at a time. The tours make their way into Florida Bay and the Everglades National Park. Along the way, the Captain visits a 130 million year old petrified reef. The tour is a sure way to see wildlife, including dolphins. At night, Captain Sterling takes brave souls out with hopes of sighting the endangered American Crocodile. Captain Sterling's web site reminds readers of the rarity of these animals. It states, "There are only 500 to 700 of these Rare Prehistoric animals left, and they are ONLY FOUND IN KEY LARGO!"
Although the Keys' beaches aren't as sandy as the beaches in Florida, there are some recommended areas for beachcombers. Plantation Yacht Harbor is one of them. It has a unique beach and a suitable swimming area. On shore, there are bathrooms and concessions.
Enthusiasms for fishing in the Keys started quite some time ago, and was an inspiration for individuals such as writer Zane Grey who fished in the upper Keys. It is said that he even made popular the catch and release technique. As a great deal of people have heard, Earnest Hemingway lived in the Keys, and fished the waters there also. Big game fishing is the specialty in the region. Private charter boats can take parties to the best locations for deep-water fishing. Fishing can also be done from party boats, and bridges. Fishing from a bridge requires a license, though. Bring your fresh catch to most restaurants in town and they'll prepare it for you.
Islamorada
Key West is the most far reaching Key, and a very familiar destination to countless travelers. Somewhat less talked about, but no less stirring, are the upper Keys. The upper Keys include the towns of Key Largo, Tavernier, Ocean Reef, Plantation Key, Long Key, Lower Matecumbe, and Islamorada. Islamorada is one town in the upper Keys that beams with culture and activity. Daryl, of Caribbean Water Sports based in Islamorada says, "It's a Great Slice of Paradise. The water, the people, and the history makes for an interesting place to live and work, and is close enough to Miami, the Grove and the airports to change pace. We've been in business since 1983 and still love 'Living and Dying in 3/4's Time' like Buffet says."
Based at Sheraton Beach Resort in Islamorada, Caribbean Watersports offers numerous guided activities, such as snorkeling, parasailing, enviro-tours, island adventure tours, and sunset and reef cruises. They also lease equipment enough to provide a lively day on the beach. Whether its zooming on top of the water in a WaveRunner, sailing with the wind in a Hobie Cat, muscling your way through the waves in a kayak, or sitting back and taking it easy in a paddleboat, all pursuits can fill up a sunny day in Islamorada. Perhaps the most irresistible quality of Caribbean Watersports is that they pride themselves on customizing their clients' visit.
There are numerous other tour operations in the upper Keys. Some just stand out from them rest. Caribbean Watersports is one, and so is Tranquil Adventures. Captain Mike Nealey and crew of Tranquil Adventures cater to individuals who desire an escape from the standard busy life that most individuals encounter these days. Captain Mike ensures that each and every guest has a relaxing time while fishing, snorkeling, kayaking, or sightseeing with his company. Tranquil Adventures' most unique feature is that they offer services for the handicap. Their boats are configured to assist with getting disadvantaged individuals on board so that they can enjoy the same fun and sun that others have at hand. Tranquil Adventures' web site states their mission as, "To be the people who finally help you relax and enjoy the moment to the best that it can be. We offer the most reliable and upfront service in the industry, providing peace-of-mind so you can leave your everyday life behind and have the peace of mind that your are well taken care of."
History enthusiasts can also be fulfilled in Islamorada. The tragic results of several hurricanes are memorialized at several locations, including Whale Harbor dining room, where a tower made of stone stands at the entrance. This tower marks the high-water levels that were present there from the 60's Hurricane Donna. The geology of the Keys is celebrated at the Windley Key Fossil Reef State Geological Site. Its here that far-reaching walls of fossilized coral reef can be discovered via one the monthly tours conducted to the area, or via Long Key State Recreation Area, or Lady Cyana Divers, where you can access the park on your own.
Dining in Islamorada
Restaurants in Islamorada are endless. Daryl of Caribbean Watersports recommends Tree Tops at the Sheraton, Snappers, The Fish House, SunDowners, Old Taverner Restaurant, Bentley's, Morada Bay/Perriers/Islamorada Fish Company complex. He says, "…and there are loads more of keysie little places like the Hideout, Crazy Flamingo, Mandalay, Dillions and Lorilie.
Lodging in Islamorada
As far as lodging is concerned, Daryl offers his suggestion as well. He says, "The Sheraton Beach Resort Key Largo, of course! But we also have some nice smaller ones: Kona Kai, Bay Harbor, Rock Reef, Dove Creek Lodge to name a few. Other lodges specialize in diving or fishing, some are for older guests."
The tract of water surrounding the islands of the Keys is an official National Marine Sanctuary, which should be respected by all when present. There are rules regarding all water sports, and they should be obeyed. One of the main rules is that no humans should touch or step on the coral. The rules have yielded positive results by conserving the beauty of the underwater world. Today. snorkeling and scuba diving are the main attraction in the Keys. A great number of travelers may not know, though, that some of the best diving is done in the upper Keys. When in Islamorada, why not visit the place voted one of the best dive shops in the Florida Keys by "The People's Choice Awards"? Holiday Isle Dive Shop is that place. The shop is owned and operated by Captain Terry Newth, and has been around since 1972. Living his passion for the sea, the Captain took over the business eight years ago, hoping to share his knowledge and enthusiasm with others.
Holiday Isle Dive Shop is a full service resort with dining, pools, and entertainment options on property, in addition to the many dive and scuba services. Kristi Newst, of Holiday Dive Shop proudly describes the amenities on location explaining, "We have three main restaurants to choose from, two with ocean views for land or sea food, and one with a variety of steaks, seafood, etc, all within walking distance from your room. The hotel has a variety of rooms and views to choose from, including garden views, marina views and ocean views. All views are great and just steps away from the ocean."
Holiday Isle Dive Shop offers an adventure option for just about anyone. Visitors can choose from one of the standard scuba dive trips, leaving the dock at 9:00am or 1:00pm every day.
They offer two tank or one tank dives, and snorkel trips. Prices range from $30.00 to $50.00 for these trips. They also offer full scuba and snorkel gear rental.
Holiday Isle Dive Shop offers several varieties of scuba dive courses. The most basic is their Discover Scuba Diving program, which is a full day trip including two dives led by the instructor, and gear. The shop also offers an Open Water Certification class, a one-on-one course, Open Water Referral Dives (also called "Checkout Dives"), an Advanced Open Water Certification, and Advance Rescue.
Certification opens up many magnificent underwater doors for the diver who seeks them out. Holiday Isle Dive Shop can take scuba enthusiasts to some of the most outstanding dive sites in the world. Locations such as The Fish Bowl and The Aquarium at 30 feet, Secret Garden at 25 feet, Hamasaurus, which the shop's web site describes as "a nurse shark and moray eel traffic jam." A dive site that guarantees a rewarding experience for both beginners and experts is Victory Reef. It is a V shaped formation, along which sea life reveals itself at varying depths. For family dives or snorkelers there is Hens & Chickens at a depth of 10 to 20 feet. The shop says, "its like a forest of purple trees." Newst describes a typical day of diving in Islamorada, as "full of tropical fish life, living corals, Nurse Sharks, eels, rays, and turtles." While these dive sites can sound very predictable on paper, each day can turn out to be a once in a lifetime adventure. Captain Terry has proof of that. The most memorable dive he ever had was diving with whale sharks while at the Wreck of the Eagle site, right in Islamorada.
To make taking a trip with Holiday Isle even more attractive, they offer several other options to partake in. Their dive packages include a dive trip with tanks and weights, and hotel accommodations at the resort. If something more relaxing and romantic is in the cards, Captain Terry will take you on board his boat, Capt. Scuba, for a sumptuous sunset cruise that includes a champagne toast. For $30 per person no one should pass up the affair.
Holiday Isle Dive Resort is a fabulous destination for families also. Newst says, "Here at Holiday Isle we have plenty of activities to choose from, therefore it suits all needs. Perhaps a family may want to dive or snorkel in the morning and fish in the afternoon, or rent a kayak, jet ski or even go parasailing, or just hang at the beach and end it all with a great dinner all without leaving the resort."
Whether an individual, family, or group comes knocking on the shop's door, Captain Terry and crew will help to create the essential dive experience for them. A visit to their web site is worth a trip also. Currently, Captain Terry and crew our offering a discount on trips through their Internet Special.
Holiday Isle Dive Shop
84001 Overseas Highway
Islamorada, Florida Keys 33038
(800) 327-7070 x644
(305) 664-DIVE (3483)
http://www.diveholidayisle.com
Get More Information on This Adventure!!!
Experience adventures like the one found in this article and others by using TropicalAdventure.com Vacation Planner. Simply fill out our Vacation Planner form and you will receive FREE information about this activity and others that you may be interested in. Click below to sign up.