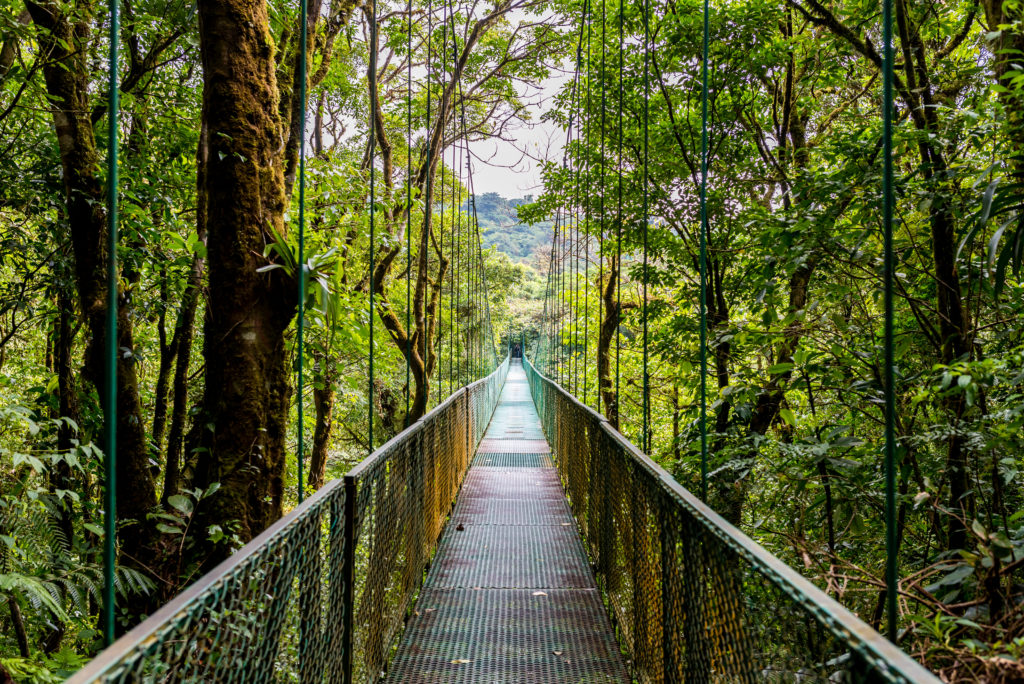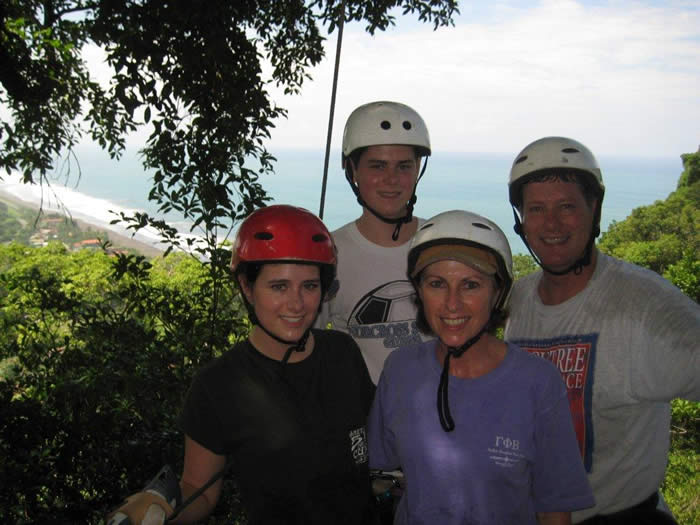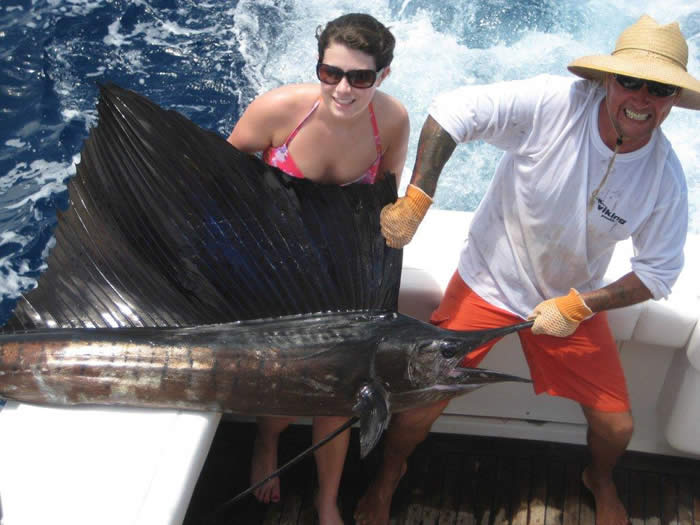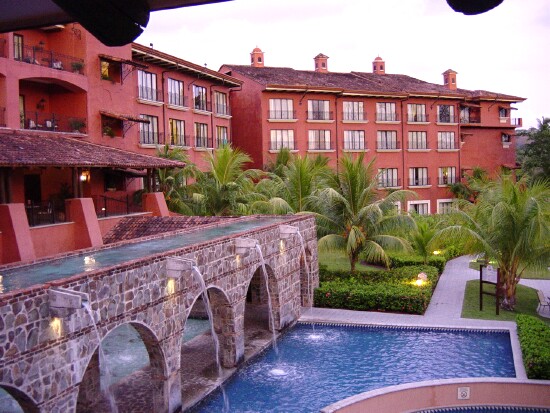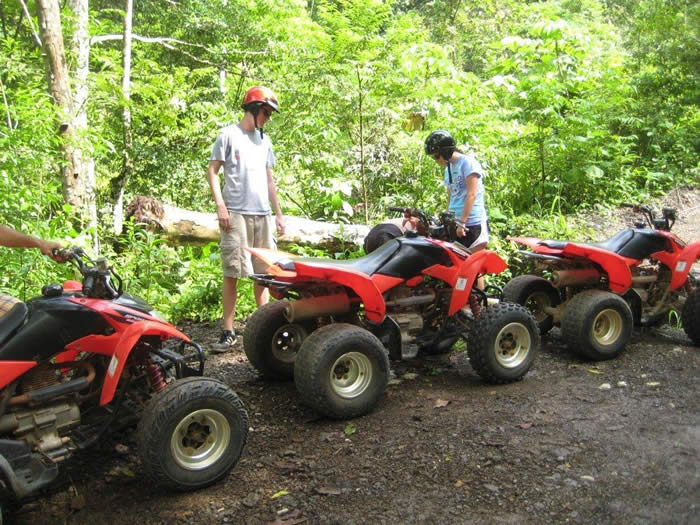 In celebration of my college graduation, my whole family took a trip to Costa Rica. A friend recommended staying at the Los Sueños Marriott Ocean and Golf Resort and my father used Bubba's Costa Rica Fishing Report (www.costaricafishingreport.com) to book our deep sea fishing, Chiclets tree canopy zip-line tour, and Jaguariders ATV tour.
We took a direct flight from Atlanta to the San Jose airport and arrived in the early afternoon (there was a 2 hour time change). We ate lunch in the airport, which was very overpriced but well worth it since there was no place to stop once on the road. I would only recommend exchanging about $10 in the airport; the exchange rate is not as good, but you will need some colones (Costa Rican money) to get you through the toll roads. After going through immigration, we rented a car through Hertz. Our car was very nice and clean, but most cars are manual, so be sure to request an automatic if you have a preference. From San Jose we drove about an hour and a half to Playa Herradura near Jaco (on the west coast) to the Los Sueños Marriott Ocean and Golf Resort. We were greeted with cold washcloths and a fruity beverage!
The resort was beautiful and included a full golf course, spa, casino, gift shop, several restaurants and an enormous pool with a swim up bar. Everyone working at the resort was friendly and spoke English, and the entrance and parking lot were always under surveillance by security guards. May marks the beginning of the off season (also known as the wet season) in Costa Rica, so the resort was fairly empty and the humidity was always about 80-100%. After settling in we went to the Los Sueños Marina, about a 5 minute walk from the resort, which offered a variety of shops and restaurants. Having heard that the resort restaurants were overpriced, we decided to drive into Jaco for dinner (about 5-10 minutes) and ate at Lemon Zest which had been recommended to us. Both the food and the service at Lemon Zest were superb and everything was reasonably priced. The room at the resort comes stocked with snacks and drinks but they are outrageously overpriced (ex: bottle of water $7). In Jaco there is a Walmart style store called Mas X Menos where we picked up some snacks and drinks to take back to the room. Since Costa Rica is so close to the equator, the sun sets at about 5:30 pm and rises at about 5:30 am; so be sure to close the blackout curtain before going to sleep!
The next morning we rose fairly early to make it to our Chiclets tree canopy zip-line tour at 9:00am in Playa Hermosa which was about a 15 minute drive from the resort. We went on the tour with three friendly guides, the four of us, and two other tourists. The tour lasted about an hour and a half. Coming from someone who does not really care for roller coasters, zip-lining 100+ feet in the air was absolutely thrilling! I was terrified on the first three, but it did get easier as the tour went on. However, my brother and father loved every second of it. The canopies were beautiful and there were several stunning views of the ocean. Canopy zip-lining is definitely an activity for adventure seekers. Make sure to wear comfortable clothes that you can sweat in. We ended the night eating at an authentic Costa Rican restaurant overlooking the ocean called Juanita's.
The next day we rose early again for a full day of deep sea fishing. We were scheduled to go out on the 30 ft boat 'R&J', but because of some engine troubles we ended up on the 60 ft boat '60 Mega Bites' with owner Rich Binkus and Captain Jeremy. Rich, Jeremy, and crew member Joshua were all hard-working and sociable. We caught 5 sailfish and a Dorado (Mahi-Mahi). For the off-season we were exceptionally successful thanks to the efficient and dedicated captain and crew. That night we took our freshly caught Dorado back to Lemon Zest where they cooked it several ways for us at a discounted price. The food was just as delicious as it was the first night!
On day three we took an hour drive to Manuel Antonio National Park in Quepos and arrived shortly after it opened around 7am. Manuel Antonio National Park (which is closed on Mondays) is considered one of the most bio-diverse parts of the planet and is home to 109 mammals and 184 species of birds. Entrance to the park is only $10 per person, but we hired a guide ($20 per person in the group) with a trained eye and a telescope to help us spot some of these unique animals. It was well worth it as he pointed out everything from spiders and bats to sloths and monkeys. Within the National Park there were several trails to walk and beaches to relax on. For lunch we stopped at Raphael's Terrazas where there was a wonderful view and delicious food and frozen drinks. After relaxing at the Los Sueños resort, we had dinner at a nearby restaurant El Pelicano. 
We began our last day with the Jaguariders ATV tour in Jaco. The tour was about two hours long and we had two guides (one who spoke English and one who did not). The tour was a blast! Be prepared to get very sweaty and muddy as they take you on a bumpy mountain path. There was a break at the top where you could have a drink and take pictures of the spectacular view, and then you continue the tour with a decent down the mountain and back into Jaco. After cleaning up a bit and relaxing by the pool, we went to the nearby Carrera National Park. We paid the $10 per person entrance fee and then ventured out on our own. The park was beautiful and we did have the opportunity to see several animals. However, we all would have enjoyed it a lot more had remembered to put on bug spray! That night we ate at the only Mexican restaurant in Jaco, Jaco Taco. The food was very reasonably priced, the portions were large, and everyone seemed to enjoy their meal. It was a great way to end the trip!
The next morning we drove back to San Jose and dropped the rental car off at Hertz with a full tank of gas in it. Hertz then gave us a quick shuttle to the airport. When leaving Costa Rica you have to pay an airport tax of about $27 per person before you check you bags or get your boarding pass. After that, getting through the airport was stress-free and we had a safe flight back to Atlanta. Overall it was a great, fun-filled, and adventuresome trip.
Get More Information on This Adventure!!!
Experience adventures like the one found in this article and others by using TropicalAdventure.com Vacation Planner. Simply fill out our Vacation Planner form and you will receive FREE information about this activity and others that you may be interested in. Click below to sign up.