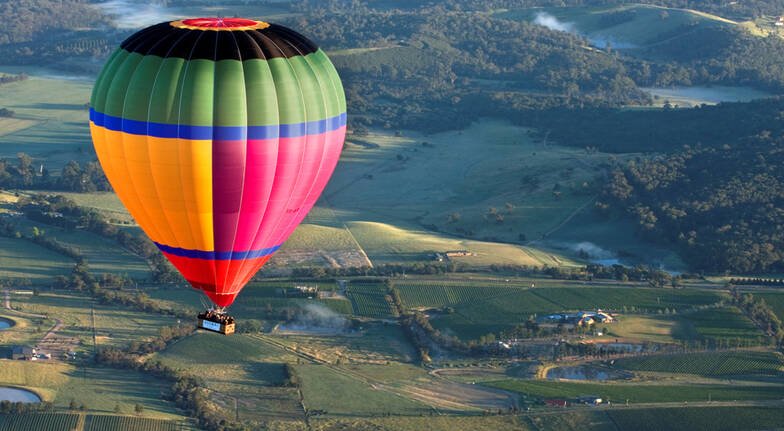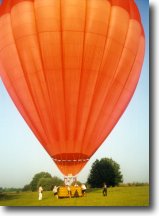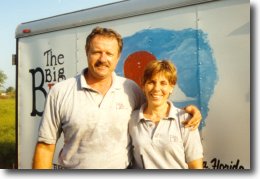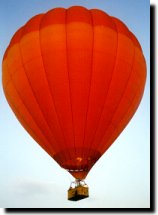 While flying corporate jets for a living, Phil Sekora and his wife Melanie found themselves transferred to Tampa, Florida. When the time came to be transferred again, they decided rather to stay put and start a business of their own. Together, with all their life's savings, Phil & Melanie opened the Big Red Balloon.. Phil was a pilot and his introduction to the hot air balloon was flying an advertising balloon.
Because of his familiarity with flying he always had a sense of the big picture. Melanie, on the other hand, knew that starting a balloon company was an exciting business decision, but only remembered her fear of flying after their first balloon was inflated and waiting to take her up.
A large part of the excitement for visitors about to engage on a balloon trip is watching the hot air balloon inflate to over 6 1/2 stories high in less than 15 minutes. Melanie still feels the same sense of excitement as she did the first time she witnessed the spectacle. From 5years old to 90, passengers of all ages enjoy the ride. Big Red Balloon have a number of balloons, including the largest balloon in the Southeast, carrying up to 10 passengers.
The balloon is spacious enough to accommodate such occasions as weddings and proposals ranging from formal to casual.  The end of the trip is marked with a champagne brunch, done in the true tradition of ballooning. Crystal, china and linen table clothes complete, what visitors have said to be, a trip unlike anything else. The brunch also gives people a chance to savor the moment. The biggest surprise Melanie & Phil have experienced from running their own business has been the joy of having new people in their lives each day. Their hard work and dedication has paid off, as they are known to be very professional and meticulous about the safety of their passengers.
Eight years since they decided to stay put in Tampa, Melanie, still afraid of heights, says flying in a balloon is so gentle and peaceful that one feels like you are standing on a very stable platform as the world moves around you. The perception is much different from what people may expect of a balloon. It is only a small 10-25% of people who experience any hesitancy at first and need a little bit of encouraging, but Melanie speaks their language.
After they get back on the ground that 10-20% are ecstatic, they feel they have accomplished something and overcome their fear. So if you are in the mood for something different and have never peeked out over tree tops at wildlife below, or floated up a 1000 feet above the landscape, it might be time to visit the Big Red Balloon.
Get More Information on This Adventure!!!
Experience adventures like the one found in this article and others by using TropicalAdventure.com Vacation Planner. Simply fill out our Vacation Planner form and you will receive FREE information about this activity and others that you may be interested in. Click below to sign up.