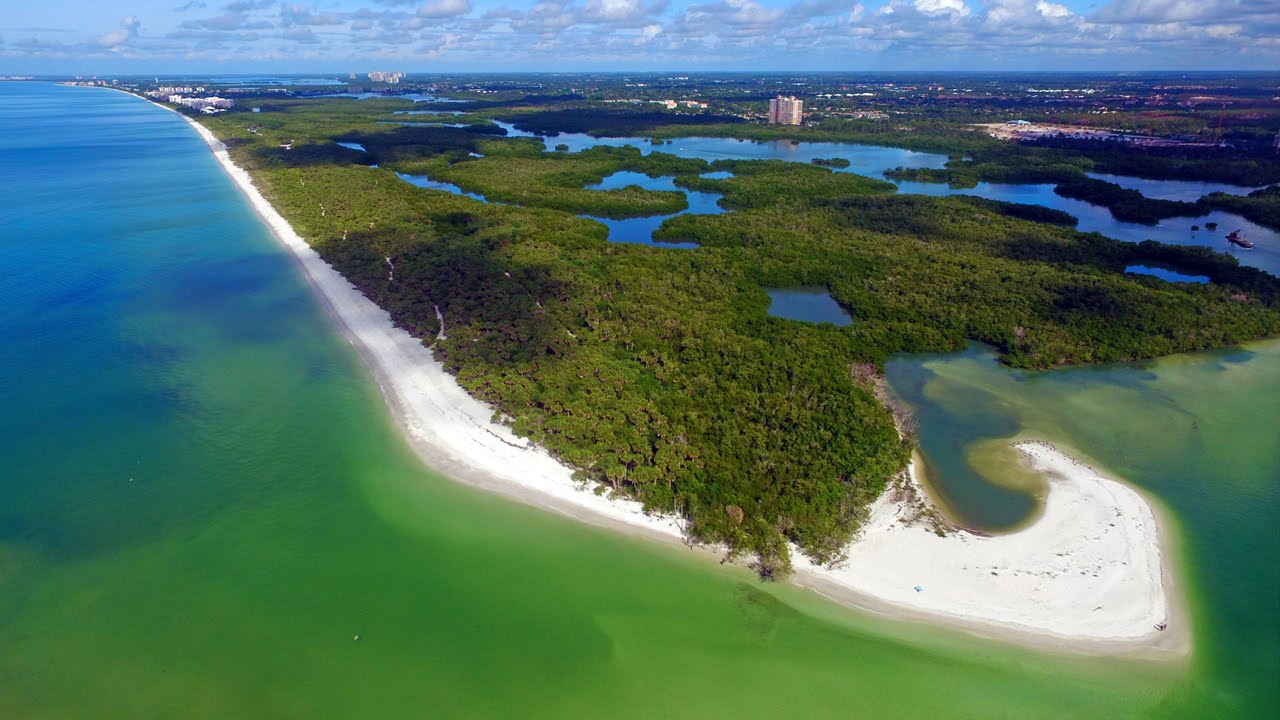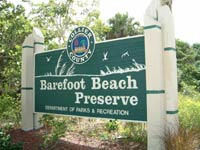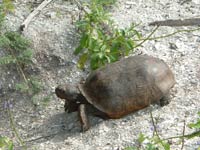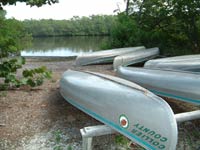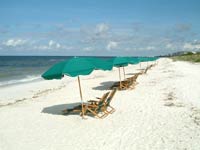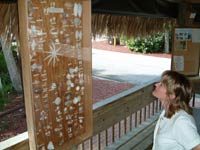 Barefoot Nature Preserve was an unforgettable find. Located in wealthy Naples, Florida, this spectacular Collier County park stands in the midst of luxurious homes. The preserve has a little bit of everything, including a great beach, nature path, lecture halls, educational classes, and backwater canoeing.
Our first challenge was finding the park. It is tucked away in a residential neighborhood with a security gate at the entrance. You could be fooled into thinking that you shouldn't go beyond the gates, but look more closely and you'll notice a small sign encouraging you to go forward to the park. The park entrance fee is $4 per car, and well worth the charge.
Barefoot Nature Preserve is a soothing alternative to the crowds of the mainstream beaches. The park's beach has several amenities, from chairs and cabanas, to kayaks for rent. Shade is a little hard to come by on this powdery white beach. It is suggested that you either bring your own shade or rent it via a cabana. The day we spent at the preserve was windy and the Gulf was rough, but this is an unusual occurrence. Ninety percent of the time the water on the Gulf side is as flat as glass. On any normal day here, kayaking off the beach is a superb, energizing experience. Wild dolphins are seen often, jumping and playing in these warm waters.
Barefoot Nature Preserve offers many chances to learn about and appreciate nature. Walking the one-mile nature path through the mangrove forest and tropical hammock, you will learn about and view a bit of what this 342-acre county park has to offer. You'll discover its location, located on Little Hickory Island near Bonita Springs. You can walk along the beach, or get back on the one-mile long self-interpreted trail that gives a good overview of the coastal habitats. You will have an opportunity to see some wildlife at Barefoot Nature Preserve. Gopher tortoises and their burrows are plentiful along the nature trail that runs between the sand dunes and the hammock. This is also a good place to see green and brown anoles and the tracks of occasional visitors – mice, snakes, raccoons, opossums, bobcats and foxes. The trail ends at Wiggins Pass; look for wading birds here. In the summer along the beach, watch for crawl marks left by nesting Atlantic loggerhead sea turtles. If you scan offshore you may catch a glimpse of bottle-nosed dolphins. If you scan the skyline you could see willets, sandpipers, plovers, terns, gulls, brown pelicans and ospreys.
The Barefoot Nature Preserve also offers complimentary lectures and guided weekend trips. There are several tours to choose from, including the Ranger Guided tour that take you through the park, a nature walk, a shell talk, or a free canoe trip. Call the park for more information or to schedule your tour, 941-591-8596. If you are new to the West Coast of Florida, shelling is a popular past time. Give it a try at Barefoot Nature Preserve. There are hundreds of varieties of shells on the beach. You may just get hooked once you pick up your first magnificent shell.
Barefoot Nature Preserve
Telephone: (941) 591-8596 or (941) 498-4364
Directions from Ft. Lauderdale:
From I-75, take exit 116 (Bonita Beach Road) and go 5.6 miles to Leley Boulevard (park entrance road). Turn left and travel Leley Boulevard 1.7 miles through residential development to the preserve.
Get More Information on This Adventure!!!
Experience adventures like the one found in this article and others by using TropicalAdventure.com Vacation Planner. Simply fill out our Vacation Planner form and you will receive FREE information about this activity and others that you may be interested in. Click below to sign up.