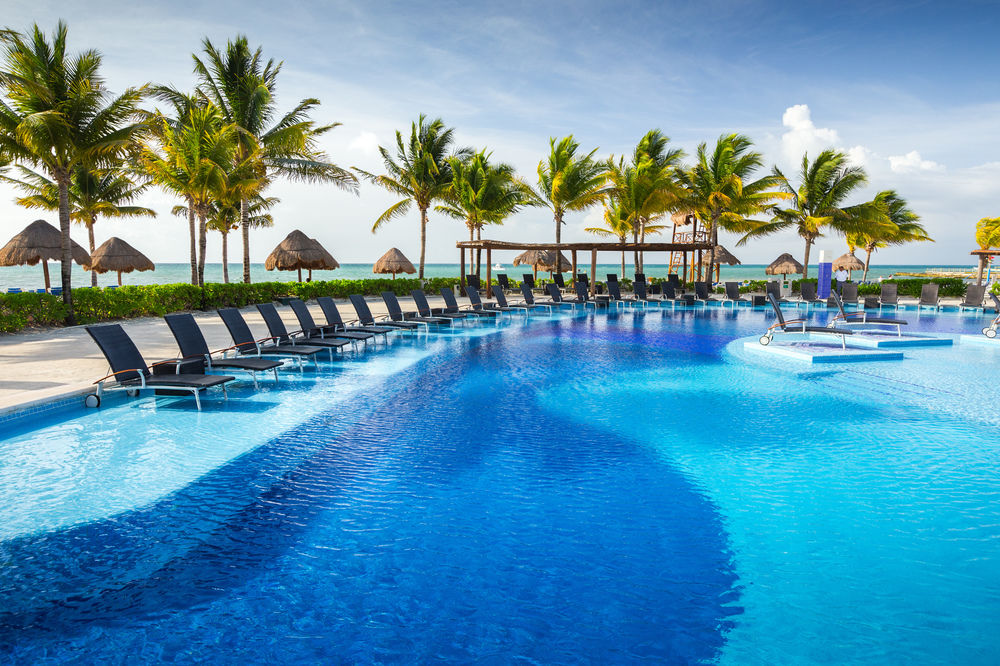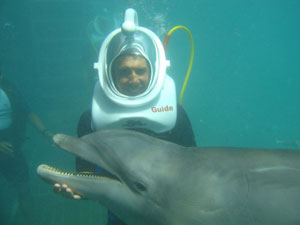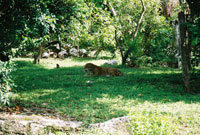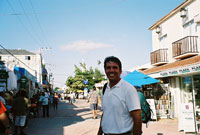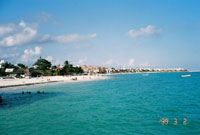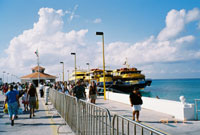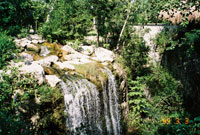 Playa del Carmen, Mexico, a city situated between the more famous places, Cancun and Cozumel and very easy to get to with a international airport in Cancun with direct transportion. Where Cancun is more an Americanize place, they have a hotel zone that you think you were in Miami or San Diego. Then Cozumel, the famous cruise ship port, this city always get an influx of hundreds and hundreds of tourist a day. Take a deep breath and get ready to experience a Mexican vacation, go to Playa Del Carmen and the cities along the Riveria Mayan coast. The reason I like Playa Del Carmen, it has a great walking areas, activities that are not limiting, places to stay for all taste, food that is fun to eat, and easy transportation to get around. Plus there are many great flight / hotel packages this region.
Playa Del Carmen is one of those walking cities where your senses get challenged. Your eyes will be filled with all the stores windows to look at, the colorful people walking along the street, tourist and locals, incredible ocean views, all different shades of blues. The sounds, I enjoy hearing all the Spanish mixed with the other languages, a lot of English, almost everyone speaks English, but also, Italian, Japanese, and German. Then in the evening, expect the sounds of Mariachi's (Mexican band, which includes singers, guitars and trumpets) playing along the streets. On some corners you will find a Mariachi hang out, where you will see 4 – 5 different Mariachi groups waiting for work. You can not help and enjoy the taste and smell of the Mexican food. There are plenty of local Mexican vendors cooking on the street corners, great Pollo Taco con Maze (Chicken and Corn Tortilla) you could die for. I am not much of a drinker, but the cold Cerveza (beer) is always a treat because of the heat. They always keep the beer on ice to make it super cold. It seems the beer of choice by locals is Sol. Walk, walk, walk until your heart is content and best time to walk is at night, the city really comes alive at 9pm – 10pm. You see many local families walking at night with mother, father and children mingled in with tourists.
The Activities seems endless for the everyone and for every level, from easy to more challenging. Since the water is my favorite, you can do swim with the dolphins, snorkel, and scuba dive. Swimming is an extremely popular activity here and you get a wide range of dolphin swims and places to do this. You can swim with the dolphins in Playa Del Carmen area, Cozumel, and Xcaret. Cozumel you swim with the dolphins and also get to enjoy the Chankanab National Park. Chankanab National Park has some of the best beach snorkeling around. In Puerto Adventuras, you can swim with the dolphins plus swim with Manatees and Sea Lions. At Xcaret, you can swim the dolphins plus see an amazing nature park of Xcaret which I will be writing more about it. Snorkeling, I think everyone can enjoy this sport from the novice to the expert. You can almost snorkel everywhere and see amazing reefs. You do not need to take a boat to see the reef, like I mention, Chankanab National Park, you can beach snorkel and dive. Even off Playa Del Carmen there is amazing snorkeling. Now, while snorkeling is for everyone, scuba diving is for those who are certified. This area is known for some of the best diving in the world. You can make a vacation just to get certified and scuba dive for 7 – 10 days.
The land activities that is available for everyone is Parks and Beaches. The parks range from Xcaret, Hel – Ha (pronounced Shell Ha), and Chankanab Park. You will see lots of promotions for Xcaret and Hel-Ha, which has transportation from your hotel to these parks. I only visited Xcaret. Xcaret definitely exceeded my expectation, from activities in the park to beauty. The activities are amazing here, from scuba diving, snorkel in the ocean and a lazy river through caves, snuba (where you have a helmet and dive in the ocean, no certification), beaches to swim, natural caves, the rivers, the ocean, and observation tower that looks over all of coast line. The cost is $76.50per adult and $38.25 (ages 5-12) per child with transportation from you hotel. You will be spending a full day here, so plan on it, bring cloths, swimming attire. Lockers are available. Mexico is famous for all its Mayan ruins and this area has plenty from Tulum to Chichein Itza. There are guided tours from your hotel to get to these places. Don't forget when you come to Playa Del Carmen, you need to enjoy the beach, at least 1 day. The beaches are beautiful and well maintained. I was surprised to see everything in such great conditioned after the impact of Hurricane Wilma, October of 2005. I would say everything seems back to normal. Getting back to the beach, you should consider one day to rent a Huge Beach Umbrella, get a great book, and RELAX!!! Playa Del Carmen has accommodations for everyone taste, from High End to quaint villas on the beach.
Transportation is bountiful here in Playa del Carmen, Taxis, Buses, and Ferries. The taxis are relatively inexpensive; from Playa del Carmen to Xcaret is only $12 US. The cost from the Cancun Airport to Play Del Carmen is about $40 to $50, 1-hour ride. Remember the cabs drivers do not expect tips and the price is for the whole cab. You do not pay extra for more people. The buses are very comfortable, I would take the bus from Playa Del Carmen to Cancun about a 1-hour ride, the cost was $4 US, on a sleeper type chair, with movie and cold AC. The ferries run all day from Playa del Carmen to Cozumel. The cost is about $10US and takes about 30 minutes. You will have to go to Cozumel for at least 1 day.
Overall, you need to stay in Playa Del Carmen and enjoy these people that are eager to please tourist of all nationalities. You won't be disappointed. Your Mexican vacation could be the beginning of many more trips to this incredible region of the world.
Get More Information on This Adventure!!!
Experience adventures like the one found in this article and others by using TropicalAdventure.com Vacation Planner. Simply fill out our Vacation Planner form and you will receive FREE information about this activity and others that you may be interested in. Click below to sign up.