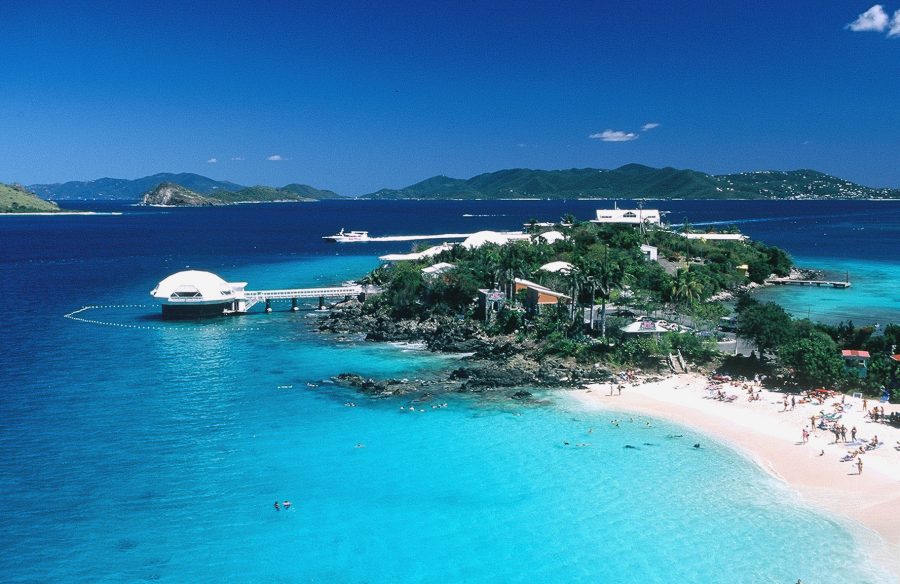 My wife and I had a chance to go to St Thomas US Virgin for a short vacation on this amazing Caribbean Island. As many like to do, we decided to try some of the local activities. So we asked our concierge at Margaritaville hotel and they recommended snorkeling, hiking on St John's and swimming with the dolphins on St Thomas and go to Coral World. We decided to visit Coral World. As we found out there was so much to do there beside the dolphin swim, there is a sea lion swim and sea trek underwater adventure too. We booked everything online with the Dolphin World Website and we got really excited about our day at Coral World.
Coral World St Thomas – Here we are !!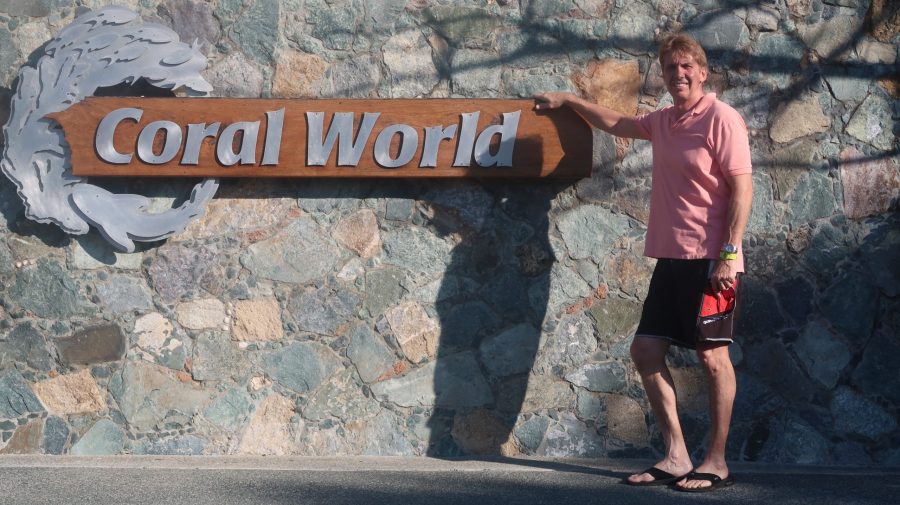 The day came for our activities and we were able to walk from our hotel Margaritaville to Coral World. It was about a 15 minute walk. Coral World is on Coki Point where many people come to go snorkeling, go to the beach and see Coral World park. Coki Point is a small peninsula which has a local road that drives through the center of the park and Coral World is both sides of the road. You are able to walk to both sides of the park from a tunnel under the road. I thought this was really ingenious to build this tunnel, a safe way to get from one side to the other.
We arrived early at Coral World at 9am and we had a pack day planned, the dolphin swim, the seal swim and the sea trek. The staff greeted us at the front gate and brought us into the park and we meet our dolphin trainer to start our day and activities.  The staff gave us a brief visual and history of the park. The park opened in 1978 and by company from Israel but after 2 major hurricanes they decided to sell Coral World to a local business family and this family has taken the day to day operations for many years now. This local family has a love of animal and they have added sea lions and dolphins to the Coral World family in the last few years and this additional has made Carol World a must see when you are visiting St. Thomas USVI.
Coral World has Plenty of Activities
Swimming with Dolphins on St Thomas
We started our day with the Dolphin Swim & Splash where we got to meet 4 amazing bottlenose dolphins that inhabited an one acre of natural ocean enclosure. Our trainer gave us an interesting educational briefing about the dolphins and she told us the dolphin decide on the behaviors that will be given each day. No two days are exactly alike, which is very exciting for any guests especially if you are repeat guest. Eventually we headed to the platform where the dolphins where excitingly waited for us to climb down the steps to the submerged platform. Two dolphins came around and half of us swam out to deeper water and half stayed back to the platform. We only have 4 people in our group which was really sweet. The two groups, the one in deep water and the one on the platform, get to pet and play with the dolphins. We were the first out in the deep water, my wife and I had a chance to really get up close to the dolphins. We petted and hugged the dolphins. It was so cool for the both of us. Even though you don't get a ride with the dolphins, we did not miss it because we love dolphins so much. Then it was our turn to go to the platform and spend time there while the other people of the group went out to the deep water. On the platform we learned more about the physical aspect of the dolphins, teeth, belly, blow hole and we had chance to feed the dolphin. Our St Thomas swimming with dolphins program was thumbs up for both of us.
Swimming with Sea Lions what a Treat
We took a little break and then continued on to the Sea Lion Swim. There was a little presentation before hand and then it starts. A big 400 pound South American Sea lion comes in and we start our behaviors on the pool deck where we get to pose funny faces with our sea lion friend and everyone in our small group is having a fun time. They call the Sea Lion the clown of the sea for reason because they are so funny and quick witted. Then the group climbs into a small size salt water pool where we are in the sea lion turf. You will definitely gain new respect for this animal because our sea lion zoomed in and out of all the people in the group as we swam free style through the pool. Our amazing trainer had each person spend plenty of one on one time with our sea lion. My wife got a little nervous with the big friend swimming because it would come within inches of her and never hit or touched her. It was amazing to see how agile this wonderful sea creature is in the water. I really loved this experience because I have done sea lion programs before and this was the first one were you really go into the deep water and play with them a lot. A total thumbs up from me for the Sea Lion Swim in St Thomas for this reason.
Go Under the Sea with a Scuba Certificate
Then we took another slight break and started the Sea Trek Underwater Adventure. This was really cool because I am a scuba diver and I really enjoy anything that is under the sea. My wife took a break from this and took pictures of me and my adventure. The sea trek is where you get a diving helmet and the staff puts it on your head and pumps constant air into it. You will be breathing normal air all the time. It is pretty easy and really no training involved. Most of the people in my group never snorkeled or scuba dived, so it was something that almost anyone could do. After the staff put the helmet on me, the staff guided me to walk down a 20 foot ladder to ocean floor. There they had a railing that went around the coral reef of the ocean. Everyone in the group followed each other as we walked the path that was laid out with the railing. It was a large circle under the sea and we had plenty of time to see and explore the sea life which was plentiful. The day I went was truly amazing because the Caribbean ocean was crystal clear. I hope to do this again.
There is are Plenty of Animal Exhibits at Coral World
Once you get to the park you will get a park map and exhibit schedule. Unfortunately we did not get to see all the exhibits because we were pretty busy with three activities. Here is a list of some the activities we did see. If you only participate in one activity, you would be able to see more of the park. However, if your budget can handle it, I would recommend at least 2 or 3 of the activities in one day. Life is short, so enjoy it.
Sea Lion Exhibit
They have  a fun Sea Lion Exhibit were one of the sea lions comes on the stage and performs and the trainers explain about sea lion and explains about anatomy of this funny animal, the mouth, the eyes, the flippers and other interesting facts.
Birds, Birds, and more Birds
They have my tropical birds to see and a good size Bird Sanctuary. All through out the day,  you will have a talks from a trainers about some of the birds they have. These birds are always wonderful to look at and interesting to get to know better too.
Watch Out, Sharks are Here!
They have a Shark Exhibit where they have plenty of nurse sharks. They have a presentation of the Sharks and how they feed them, very interesting.The sharks are small and there are many of them to look at.
Everyone Loves Sea Turtles
The Sea Turtle Exhibit is my wife's favorite exhibits. She always has been a big turtle fan and they have about 4 to 5 large sea turtle. Maybe one day they will let guests enter their swimming area for an interaction. My wife would be the first taker.
Under the Sea
If you love Aquarium and tropical fishes, then Coral World is your place. They have a huge salt water aquarium which many Caribbean fish and sea life are housed. Then Coral World also has a undersea viewing room which is a concrete and glass room where you will climb down a flight of stairs and you will view the real sea life and the St Thomas Coral Reef in this safe enclosure. It is amazing.
Other Amenities to Make Your Day Perfect
Food to Purchase
If you get an early swim time, you may want to consider Breakfast at Coral World. You will be greeted by a wonderful local women who will offering you Bacon and eggs, Breakfast sandwiches and French toast. As soon as you walk up to the entrance you can not miss the food canteena, open daily, 7:30 a.m. – 10:30 a.m..
Of coarse you may want to eat lunch too, at the same food canteena, you can get Hamburgers and fries, Sandwiches and salads, Chicken wings and pizza, Soft drinks, water, and beer, Specialty frozen drinks with or without alcohol including signature Shark Bite drink. The canteena is located inside the park next to Shark Shallows. Lunch is served from 9:00 a.m. – 4:00 p.m. daily.
The Gift Shops
If you traveled all this way to St Thomas and then come to Coral World, you definitely need some souvenirs to bring home with you to remember your amazing day.  There are many gift items and books inspired by the Aquarium's exhibits to bring back. Also in the gift shop is where you will be able to purchase all your activity photos of all your activities within the park. The photos are too hard to pass up, they run about $40 and up.  They also have unique jewelry, housewares, and apparel for all ages. We bought a really cool tee shirt for our 7 year old daughter. You may want to look at the children's plush and replica animals for children too.  There are plenty of educational books, puzzles and toys.  The gift store is open 9:00 a.m. – 4:00 p.m. daily.
How to get to Coral World
6450 Coki Point Rd.
St. Thomas, USVI 00802
Coral World is located adjacent to Coki Beach on Coki Point, a peninsula on the northeast shore of St. Thomas in the U.S. Virgin Islands. Parking is Free for guests of the park. If you really want to save time, you should stay at Margaritaville Resort, it so close to Coral World and also a really great place to stay on St Thomas. It might be an option for you.
An Unforgettable Day at Coral World St Thomas!
My wife and I had amazing and wonderful day at Coral World. You never know what to expect when you go to a new place, location or attraction. The animals are well treated and humane approved for their care. The trainers and staff love their job and it shows with the animals and how happy they looked. We were so impressed with everything. We hope that we can come back again to St Thomas and see Coral World another time and enjoy everything they have to offer again. To say the least, we had a happy ending here and hope this article can bring a lot a guests and local to this attraction. Besides going there, it also helps support and feeds the animals, which is not cheap to say the least, the many jobs that are given to the locals, helps everyone here in St Thomas. Thank you Coral World for great experience.