Be a Kid Again in Orlando!
Orlando truly is a special city in the country. It's no wonder it has been named the #1 most visited city in the country by Travel Pulse. On average it sees 233 sunny days each year. That means your vacation won't be ruined by rain! Plus there are also a TON of awesome theme parks, world-class spas, great places to eat and shop and dance the night away.
But I guess the best thing about visiting Orlando is you can be a kid again. Especially if you are traveling with kids. There is just something so magical about this city. There are so many cool places you can visit with your family that will put a smile on everyone's face and ensure everyone has fun. And if your particular idea of a fun vacation is to splash around in the water with your family, then you have GOT to check out Aquatica waterpark!
What Makes Aquatica So Great?
Well let's start with this: Recently USA Today held a voting contest for the Nation's Best Outdoor Waterpark and Orlando's Aquatica took the number one spot! And as soon as you step inside this park, you will instantly see why!
There are a TON of great rides! From water slides to river rafting to enjoying some quiet time on a sandy beach, this place has it all. My family and I recently went, and I cannot tell you the fun we had.
WARNING: You may be a little overwhelmed at just how many awesome attractions there are at Aquatica. I'm going to list some of my favorites here, but when you go, consider going multiple days to take full advantage of all the fun that awaits you.
Okay, here is my list, and I am going to start with my family's absolute favorite ride:
Roa's Rapids
If white water rafting is on your bucket list, then you'll definitely want to check out this ride! You basically race along this cool river that has swirling water and gushing geysers and you are going really fast! This is definitely an action-packed adventure ride that will get your heart racing and most of you wet! I encourage you and your family to check it out.
KareKare Curl
Did you ever wonder what it feels like to be weightless? You'll get a chance to experience weightlessness on KareKare Curl.
The ride gets its name from the famous New Zealand beach called KareKare Beach. It's one of the absolute most popular surfing spots in all the world. "KareKare" means "wave" and "curl" means "curve-shaped". This water slide, which is 361 feet long,  puts you in the center of a massive curve-shaped wave!
The slide is high and you'll start 50 feet up going through a tunnel and suddenly you'll be spit out into the KareKare curl where you'll slide up into a 35 foot wall. This is where you'll experience feeling weightless for a few seconds! Then you'll go through a final tube and SPLASH into the catch pool. If you're an adrenaline junkie, check this ride out.
Cutback Cove
One of the things that makes this waterpark so unique is that they have these GIANT side-by-side wave pools that you really can't find anywhere else in the entire United States and all of them have different sizes/strengths of waves.
Cutback Cove has some high waves, while Big Surf Shores has slow and easy action. Depending on your mood and the type of adventure you want, you can choose.
Dolphin Plunge
If you've ever had the opportunity to be in the water with dolphins, you know that they usually like to swim underneath you. Well in the Dolphin Plunge ride, you might get the chance to look up AT THEM!
The slide starts you out in total darkness and then you are blasted into a brilliant underwater world where you might catch a glimpse of the park's playful pod of beautiful black-and-white Commerson's dolphins that call it home. These dolphins are known for their speed and if you're lucky, they may race alongside you as you zoom past.
Ihu's Breakaway Falls
How brave are you? This water slide will help you find out because it is the steepest multi-drop tower of its kind in Orlando. The ride is named after Ihu, Aquatica's colorful gecko, who searches for the biggest thrills, steepest hills and the coolest spills in the waterpark.
This is only a short list of the epic rides and slides Aquatica has. You'll be pleasantly surprised at the number of attractions you and your family will enjoy.
Traveling with Little Kids?
So the rides I just listed aren't for small children, but don't worry, there is plenty of fun for little ones in Aquatica.
Walkabout Waters
This is one of THE go-to places in the park for little kids. It's a really whimsical area and there is a lot of fun for youngsters. Your kids will be mesmerized by the 60-foot-tall rain fortress that is bursting with vibrant colors. And the entire area measures a full 15,000 square feet, so they will have plenty of great things to see and do.
SANDY BEACHES
Sometimes kids just want to make sandcastles or throw a frisbee around. The park has some charming white sandy beaches where you and your family can just hang out and relax. There are also a couple of awesome wave pools for tiny ones that they are sure to enjoy if they need to cool down.
Kata's Kookaburra Cove
Your kids will have fun just trying to say that name!
Kata's Kookaburra Cove is where young kids can get some age-appropriate action. Here they can try out beginner body slides, water spouts and pools. Walkabout Waters is close by, so you all can easily head on over there and splash around for more fun.
Walk About Waters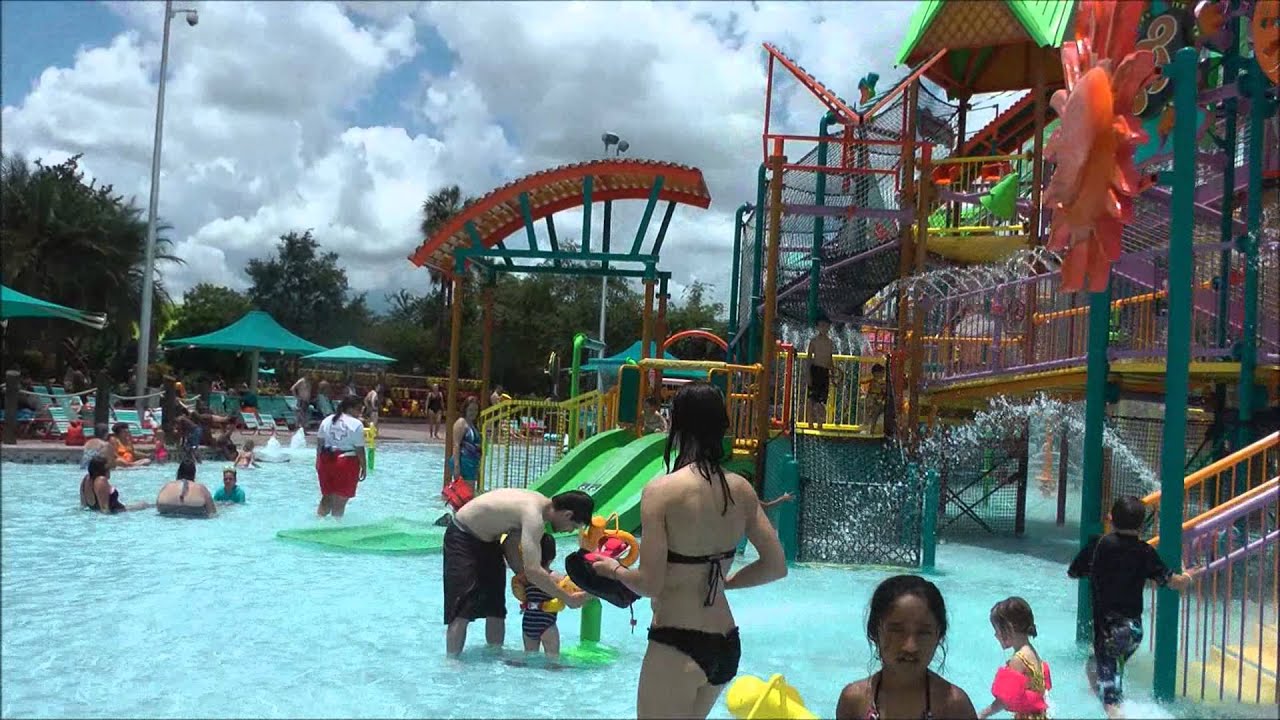 Getting Hungry Yet?
The thing about having tons of fun is, it makes you hungry! But that's no problem because Aquatica offers guests all day dining. And you'll have plenty of options to choose from. Here are some of the places my family and I enjoyed and we whole-heartedly… and whole-stomachly recommend.
PAPA'S CANTINA
Sometimes when hunger strikes, the only thing that will do the trick are delicious boneless wings and a variety of tasty dipping sauces. If you agree, then head to Papa's Cantina, a new dining option to the park. They also have awesome empanadas, which are like fried pastries with different fillings, and a decent selection of drinks.
MANGO MARKET
This is a great place for families because they have a variety of foods to choose from that kids really enjoy. You can get hot dogs, chicken tenders, sandwiches, loaded fries, soda and ice cream. For the adults, they have Starbucks coffee and a variety of bottled beer, wine, and sangria available for purchase.
WATERSTONE GRILL
This place is also a good option. Similar food to Mango Market with sandwiches and burgers, salads, wraps and kids' meals. This place has more of a variety of tasty deserts. They also have beer and sodas.
MOTU'S BEACH BAR
If you're traveling with just adults or your kids are off having fun with other family members and you can steal away for an hour, head to Motu's beach bar. It's location is great, on the shores of a pretty sandy beach. So maybe you can keep an eye on your kids building sandcastles and you can treat yourself to an alcoholic beverage. They have a wide variety of specialty cocktails, frozen daiquiris, draft beer, plus a wide range of bottled beers, wines, seltzers, and sangria. There are also non-alcoholic drinks and packaged snacks.
Plenty of Food Choices at Aquatica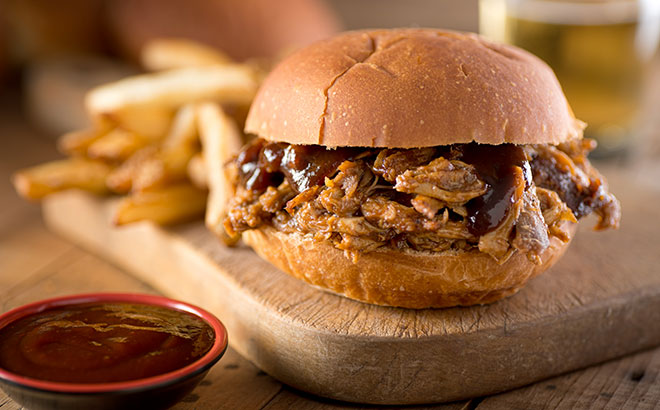 Extras! Extras!
I recommend you consider adding on some very nice extras to your package. Here are some extras worth considering.
Cabanas
As you now know, there are many, many pools and beaches at this waterpark. Sometimes it's nice to have some shade and a bit of privacy. So I recommend getting your own private cabana. Believe me, you'll see other people with them and you'll think, "Why didn't WE do that?"  The cabanas come in different sizes and are available at different locations, so you have a lot of options.
And if you REALLY want to pamper yourselves, you can have lunch and snacks delivered right to your cabana all day long. It's just nice because you feel like you have your own spot in the park that's just yours all day long.
Premium Loungers
Aquatica also has premium seating loungers that have a convenient built-in locker unit and attached canopy that provides much-needed shade throughout the day. These loungers are located in the beach area near Big Surf wave pool, which is a nice spot.
One-on-One Playtime with Dolphins
If you've never had the chance to interact with dolphins, I really encourage you to do so. These animals are so special and getting up close to them is such a memorable experience.
This extra will allow you to spend some time with the park's zoological experts who will teach you all about Commerson's dolphins. Then you'll get a chance to watch them play (they are very playful) and you'll also get time to interact with them directly. And the park also has their own professional photographer to capture the memories for you! If you want to swim with the dolphins in Orlando, you need to come to Discovery Cove.
Great Extras - Cabanas and Dolphins
Accommodations
It's Orlando, so there are a TON of great options when it comes to accommodations. Another great thing about Aquatica Park is that they have partnered with many great hotels in the area. This means guests of the park with get a discount toward their accommodations.
Here are just a few of their hotel partners. My family and I have stayed at these hotels in the past so I can personally recommend them.