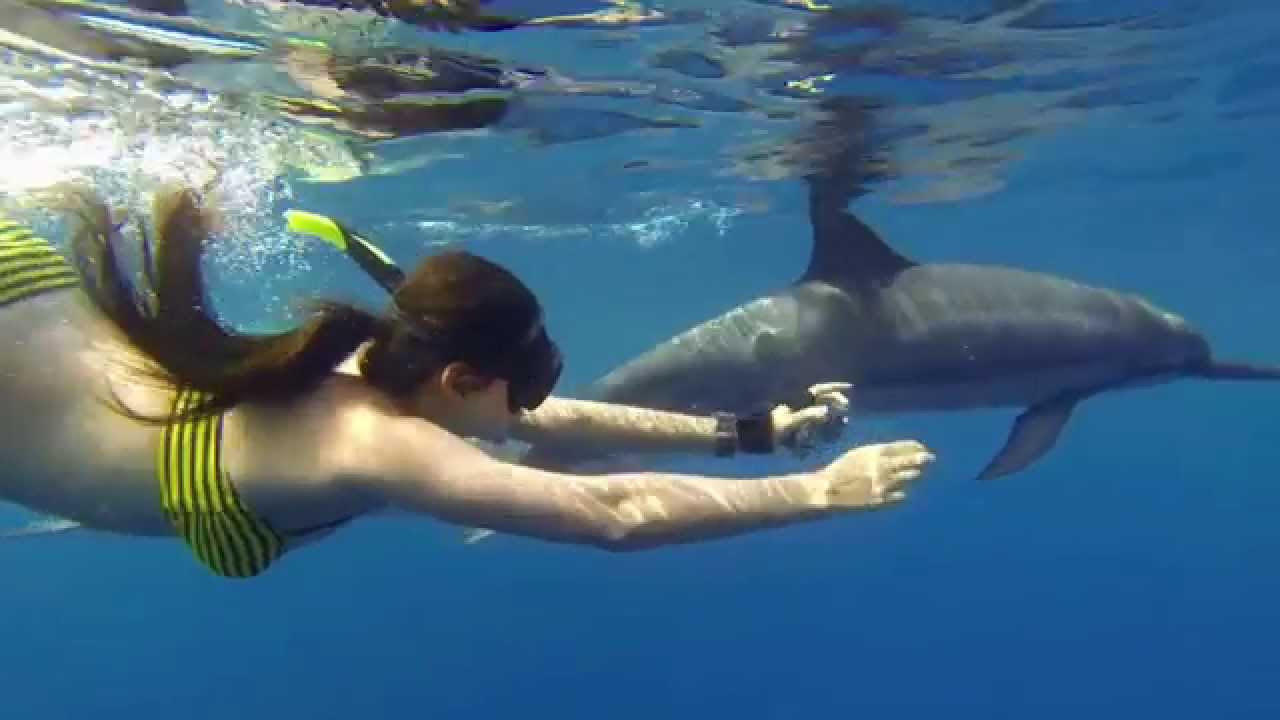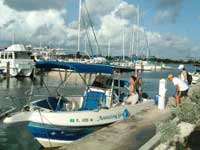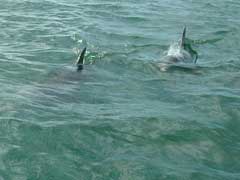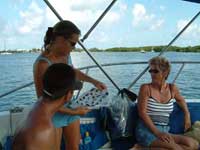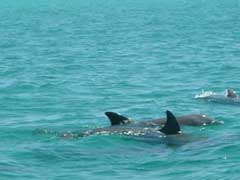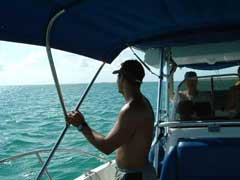 "Journey to the Dolphin Playgrounds, snorkel coral reefs and explore the backcountry of Key West." At Wild about Dolphins, you can experience the natural world of the wild dolphins of the Florida Keys. Don't worry about your towels, sunscreen, snorkel gear or drinks, just get your bathing suit and get down to Key West and see the dolphins as you have never seen them before as Captain Sheri Sullenger takes you to see the dolphins in their home.
My wife and I made our way North from Key West to mile marker 5 to visit Wild about Dolphins. We arrived at 7:30 AM to meet with Captain Sheri to find out some information about the tour that morning. We were greeted with a smile from all the fishermen preparing for the day at the Ocean Side Marina. Captain Sheri provided all the information about the tour, as soon as we asked, nicely laid out for even my understanding. At 7:45 we signed release forms to ensure our safety on the day's adventure as Sheri pulled around the dock in a beautiful 23 and 1/2 foot- Aqua Sport Boat, with a 225 4-stroke engine called Amazing Grace (it was my dream boat!).
We left the dock at 8:00 AM with high hopes of seeing the Florida Dolphins in their natural environment. Sheri informed us that there was a 98% chance of finding the dolphins on a beautiful May morning such as on May 18th. In the winter and on windy days, it can be a bit more difficult to spot the dolphins due to the rougher waters. This morning was beautiful and calm, so we were all anticipating seeing the dolphins soon.
We cut through the glass-like waters on our way to the Barrier Reef. On the journey we saw many graceful birds flying through the air of many different shapes and sizes. The Off Spray and the Frigate Bird were most popular as we observed them diving for breakfast. I was never much of a bird watcher, but this morning was different. Captain Sheri told us to look for the Frigate Birds diving for fish because many times they are trailing the dolphins as they feed. This time the birds were all alone, no dolphins yet.
As we made are way towards the "dolphin playground" area, we saw many Tarpon, sea turtles and even a shark! Don't worry, the shark was only about four feet long. We continued to cruise for about ten minutes before we passed a floating personal resort. Yes, a floating resort! This was a one bedroom little floating bamboo cottage that can be rented for the evening through one of the local resorts. It is called a "BOATEL", and is one of the new features that you will only find in Key West.
The time was now almost 9:00 AM, we had left the docks about 45 minutes ago but we had not seen any dolphin. I was already having a great time and we did not even see what we were supposed to see, YET. At around this time we had reached the Dolphin Playground and the fun was really about to begin! Captain Sheri informed us that the dolphins would normally recognize her boat from the sound of her engine, but the engine was new so she was not sure if they would come out right away. At this point Sheri told us all to keep our eyes peeled as she played her "Signature Song." At that very moment she played an aquatic version of Amazing Grace, and within seconds the dolphin were popping up all around the boat! They were beautiful! There were at least three groups of about three dolphins swimming around the boat as if to say hello.
They were so graceful as they played and fed along side of the boat. They all seemed to work together in what ever task they were trying to accomplish. We followed the dolphins for about 30 minutes before we were given the sign (blowing water) that they were busy fishing. When a dolphin blows water it means they are busy, when it smacks it's tail it is telling you to leave, and when it turns over and smacks it's tail it means you are really bothering them and they want you to leave immediately. Captain Sheri instantly respected the dolphins' sign and took us away from the fishing area towards the barrier reef. At the reef we were provided with snorkel gear and a light lunch. The snorkeling was exciting.
Different from anywhere I have ever snorkeled, we were out in the middle of the ocean with very little land within a mile. It really made you feel that you were experiencing the natural ocean life. The reef was amazing and the fish were not shy. We got to swim up close and personal with the Parrot Fish and all of the other tropical fish that calls this Barrier Reef off of Key West home.
After snorkeling and a light lunch we headed back towards the shore. As we passed the dolphin playground we were greeted by another group of four dolphins that swam with us, surfing the bow wake. They stayed with us for about 30 seconds before a larger vessel came by with a larger bow wake to surf. The dolphin swimming in the Florida Keys is something to see.
We made it back to the docks at about 1:00 PM. It was a beautiful morning full of excitement and adventure, and we still had the whole day ahead of us. The journey to the Dolphin Playgrounds and snorkeling the coral reefs of Key West was a great day trip. At Wild about Dolphins, Captain Sheri Sullenger takes you to experience the natural world of the wild dolphins of the Florida Keys and see the dolphins as you have never seen them before.
Click Here for More information:
Wild About Dolphins
Get More Information on This Adventure!!!
Experience adventures like the one found in this article and others by using TropicalAdventure.com Vacation Planner. Simply fill out our Vacation Planner form and you will receive FREE information about this activity and others that you may be interested in. Click below to sign up.