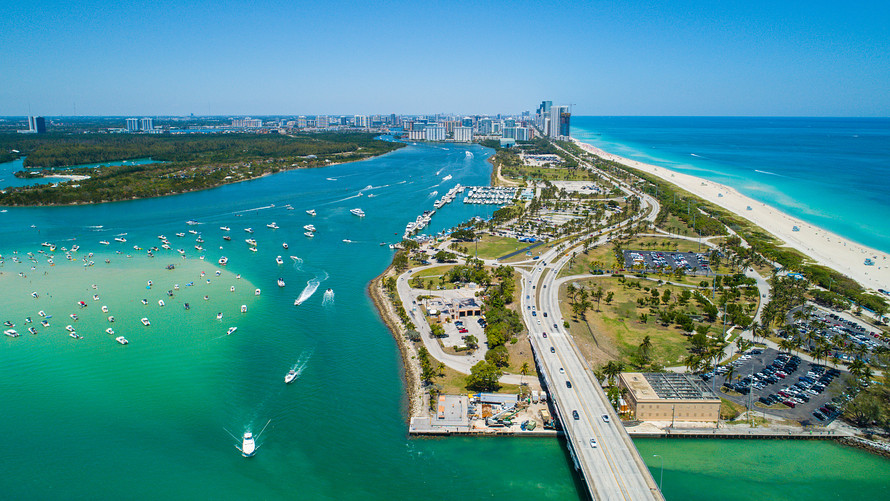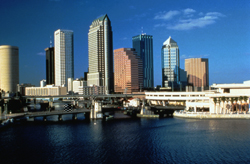 Pinellas County, Florida has withstood the test of time. Although it has changed in some ways since it inception in the 1800's, the county still continues to attract people for vacation, and eventually convinces them to stay for good. Its history tells the tale of many who experienced this.
The area where Pinellas County now exists was first inhabited by the Tocobagan Tribe, and subsequently dominated by the Spanish, led by Panfilo de Narvaez and Hernando DeSoto in the 16th century. The Spanish arrived in search of gold, and found hardship in the process. Finally, in the early 1800's Spain surrendered the state of Florida to the United States, the Tocobagan Indians died, and the Seminole Indians began to thrive around today's Tampa Bay. Thereafter, fisherman from mainland U.S. and Cuba inhabited the area. Along the way, France also had influence over the territory. The first white settler, Count Odet Philippe settled in the area known today as Safety Harbor in Hillsborough County, and brought more settlers there, alongside his introduction of citrus.
Pinellas County is made of several charismatic cities, including St. Petersburg, Clearwater, Dunedin, and Tarpon Springs. Each town's background and heritage is as unique as its personality.
By the late 1800's the Florida coast began to blossom, shaped by three significant happenings. To begin, Pinellas Peninsula was named "The Healthiest Spot on Earth" by the American Medical Convention in 1885. Subsequently, John Constantine Williams set out to create a city in the Southern part of the peninsula. After Russian immigrant Pyotr Demintyev agreed to terminate his Orange Belt Railroad from Central Florida to Williams' land, the two concluded that the new town would be named St. Petersburg, after Demintyev's Russian hometown.
Created on the bluffs overlooking the Gulf harbor, the town of Clearwater was originally Clear Water Harbour, named after the clear springs that then flowed into the bay from the bluffs, where downtown Clearwater is now. In 1906, "Harbor" was dropped and Clearwater became one word. The City of Clearwater was incorporated on May 27, 1915. That same year the city built the first wooden bridge to Clearwater Beach. The town of Clearwater was named the County Seat of Pinellas in 1911. Subsequently, the agreeable climate attracted hordes of people that came to visit. They were won over by everything the vicinity had to offer, and made Clearwater home.
Dunedin is the oldest city on the west coast of Florida, located south of Cedar Key. The city was settled around 1852, when the first deed was recorded. Richard L. Garrison is the first recorded settler. Dunedin's success is directly related to its position on the coast. The settlers wasted no time in setting up a seaport, and receiving shipments from sailors. The city became the trading center for the entire region. John L. Branch, and Scots J.O Douglas and James Somerville jump-started the port's retail business, with stores along the waterfront. Dunedin was incorporated in 1899. In 1920, the population of Dunedin was 642. By 1994 the estimated population reached 34,857. Today, the city is a popular travel destination. The peak season is November to March. These months bring an additional 1,500 winter residents and tourists.
As time passed, immigrants consistently arrived and other townships were settled and named, such as Tarpon Springs, which was, interestingly enough, created by Greek sponge fisherman.
Activities
Pinellas County is situated in an ideal location for a vacation, on the central west coast of Florida, with such major destinations as Orlando, to the east, and the Everglades, to the south. One must not overlook, though, the amount of activities there are right within the county. Orlando has Disney World, but Pinellas County has some of the most unique theme parks, including Adventure Island, a water-theme family park. In addition, Busch Gardens, an African theme park is located close by. Its here you can be thrilled by killer coasters and come face to face with big game at one of America's largest zoological parks.
Pinellas County rests on the banks of The Gulf of Mexico, which yields another universe of adventure activities for all ages. Windsurfing is growing in popularity. The sport takes a certain level of bravery to try for your first time, but learning the skills can be left in the hands of the experts. Britt Viehman puts his 12 years of windsurfing and teaching experience to good use through his company, North Beach Windsurfing School out of Tampa Bay. Britt, along with his instructors, provides windsurfing lessons, instruction and rentals for all levels of surfers. For beginners, the school and its U.S. Sailing certified instructors offer multi-day windsurfing lessons and clinics. Beginners can take a 4-hour lesson on a three-foot wide board and lightweight sail. The lessons teach sailing straight across, up and downwind, as well as turning so that surfers will be able to get back to shore when necessary. The lessons start on land and progress to the water. Small group and private lessons are available.
If you desire a more relaxed activity, be sure to experience Dream Catcher Excursion Tours, based in Clearwater Beach. Join Captain Mike for a 4 to 6 hour adventure. You may find yourself surrounded by wildlife, like Captain Mike and crew did one day. Mike explains, "We found ourselves in the middle of a pod of about 40 Dolphins. They were everywhere, and swimming at about arms length from the side of the boat was a mother & calf." Dream Catcher's tours are fun, yet mindful. The Captain is to be commended for incorporating environmental awareness into his trips. When he takes adventure seekers to the protected islands located north of Clearwater Beach he instills such rules as, no live shelling, and no dumping of trash on the islands or in the water. Also, while his guests are snorkeling, Captain Mike picks up trash on the beach.
The Captain journeys out to several reefs for diving. The Rube Allyn Artificial Reef, at a depth of 45 feet, was created by pilings from the Sand Key Bridge in 1976. In addition, 47 feet deep Veterans Reef, as well as Indian Shores Artificial Reef, are also among Dream Catcher's scuba diving options. Anclote Key Preserve State Park, an island off the coast of Clearwater Beach, is another of Captain Mike's destinations. This preserve is a fantastic place to take part in all of Mike's adventures.
Dream Catcher is currently offering a 4-hour excursion tour that includes snorkeling, dolphin watching, tubing rides, shelling, fresh fruit & refreshments for $30.00 per person. Since there is a 4-person minimum and only 7 person maximum tours can fill up fast.
Captain Paul of Reel Florida Adventures offers the best in fishing excursions for beginner to advanced fishermen. 4, 6, and 8-hour trips can be arranged, at $50 less than the competition. Most trips leave early in the morning. Afternoon trips can also be arranged. Captain Paul uses his 20′ Backcountry 201 Proguide flats boat with 200hp Mercury outboard. "Only the finest rods and reels by Sage, Abel, G-Loomis, Redbone, and Shimano are used," he states on his web site. In addition, you are sure to see a variety of wildlife while out with Captain Paul, such as porpoise, manatees, sharks, and pelicans, Roseate Spoonbills, Blue Heron, Ibis and Ospreys. Paul recalls one of his remarkable trips by saying, "The most memorable fishing experience has to be the six hour long fight on a 9ft. Lemon Shark last August. I had three guys from Scotland on board and each one took turns fighting the large shark. We were using light tackle more appropriate for Tarpon than a 350lb. shark. Towards the end of the battle I was grabbing the tail of the shark and trying to put a rope around it. The fishing line broke on my third attempt to lasso the tail. We were planning on pulling the large shark on board for a quick picture and then releasing her. It was the largest fish and the longest battle on my boat."
Captain Paul is a member of the Florida Guides Association. According to the organization's web site, the association strives for 'Better Fishing through Conservation.' The group also states, "We believe it is essential to lobby to protect the rights of all recreational anglers for access and responsible use of the natural resources available in Florida's State waters." Captain Paul works via the association to protect the Tampa Bay area. Some of the efforts include, coastal trash clean up, setting up manatee slow speed zones, and state fishing regulations. Paul states, "I have personally rescued a freshwater turtle from the sea and returned it to an inland lake and helped several Brown Pelicans in distress from hooks and fishing line."
Captain Paul provides your fishing license, a cooler with ice, rods, reels, tackle, and live bait, on each fishing trip. He arranges fishing at several different locations to ensure the finest experience. Meeting locations include Anclote River Park, Palm Harbor Resort, Seminole Street Ramp, Maximo Park, Kingfish Boat Ramp, and Safety Harbor Ramp.
Lodging
It is easy to find both intimate and grand places to stay in Pinellas County. How does a bungalow on the beach sound? If it sounds good to you, book one at The Island's End. The Island's End offers a private beach, within a cozy neighborhood setting.
If you are joining Captain Mike of Dream Catcher Excursions, you should consider a stay at The Quality Inn, situated on the south end of Clearwater Beach. The hotel is located adjacent to Shepard's Beach Resort, with daily and nightly entertainment. Mike will pick up guests in his boat on the beach behind the hotel.
When in the St, Petersburg area, consider a night at Don Cesar Beach Resort & Spa, a historic luxury resort, or Vinoy Renaissance Resort and Golf Club, another of Florida's finest historic hotels, with its own private marina, a 18-hole golf course and 12-court tennis complex.
Dining
Dining in Pinellas County is a treat. Of course, there is the freshest of seafood. The Wharf is a reputable, casual seafood restaurant, located on a wharf, hovering over the water, on St. Petersburg Beach.
Frenchie's Original Café, where the fish travel from boat to skillet, is also recommended. You can get there by car or boat, since they have a boat dock. Captain Mike of Dream Catcher Excursion Tours says, "I recommend the She crab soup for starters. And for the main course I like the tuna steak."
Captain Paul of Reef Florida Adventures recommends Bon Appetit in Dunedin, and Billy's Stone Crab Seafood House in St. Petersburg. Both offer fresh seafood and a view of the water.
LODGING
The Island's End 
St. Petersburg Beach
727-360-5023
The Quality Inn
Clearwater Beach
(727) 442-7171
Don Cesar Beach Resort & Spa 
St. Petersburg Beach
(727) 360-1881
Vinoy Renaissance Resort and Golf Club 
St. Petersburg
(727) 894-1000
DINING

The Wharf
St. Petersburg Beach
(727) 367 9469
Bon Appetit
Dunedin
(727) 733-2151
Billy's Stone Crab Seafood House
St. Petersburg
(727) 866-2115
ATTRACTIONS
The Florida Aquarium
701 Channelside Dr., Tampa
813-273-4000
" This is the state's only aquarium offering a dramatic, unique and educational look at the astonishing world of Florida's diverse water habitats."*
Great Explorations Children's Museum
1925 4th St. N.
St. Petersburg, Florida 33704
727- 821-8992
" Hands-on children's museum and learning center."*
The Pier
800 2nd Ave. N.E., St. Petersburg
813-821-6164
" A popular 5-story festival market full of shops, dining and entertainment with a water view.
The Pier is located at the end of 2nd Avenue N.E. The Pier is minutes from Tampa and Florida's famous gulf beaches. Valet parking available. Tour buses welcome."*
*Information taken from
THEME PARKS
Adventure Island
1001 McKinley Dr., Tampa
813-987-5660
Busch Gardens, Tampa Bay
3000 East Busch Blvd., Tampa
813-987-5082
North Beach Windsurfing
Britt Viehman
LOCATION: St. Petersburg Beach, Pinellas Central Florida West
ACTIVITIES: Kite Surfing, Sailing, Windsurfing,
DESCRIPTION: All North Beach Windsurfing instructors are certified by the US Sailing Association of America. Britt Viehman, Mike and Maria are 3 young working professionals who love to windsurf.
352-867-8717
http://www.nbwindsurfing.com

Get More Information on This Adventure!!!
Experience adventures like the one found in this article and others by using TropicalAdventure.com Vacation Planner. Simply fill out our Vacation Planner form and you will receive FREE information about this activity and others that you may be interested in. Click below to sign up.