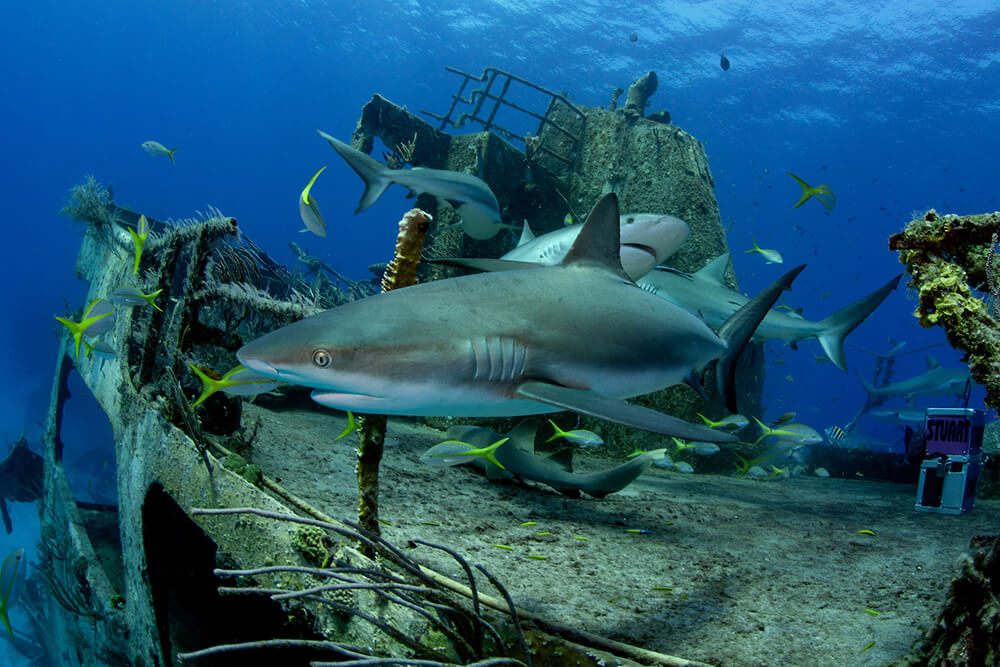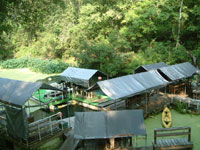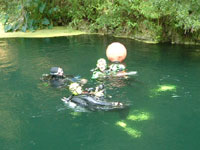 Websters define the word "'grotto" as, "a small cave (usually with attractive features)." Seems fairly straight forward, until one conducts a search on the Internet using the keyword, "Grotto". Web surfers will find non-profit organizations, literature, and even a pizza company. In the process they may miss out on the adventurous opportunities waiting in the world of grottos, specifically, via Hal Watts' Forty Fathom Grotto, located 40 minutes from Ocala, Florida.
Hal's grotto actually began as one of Florida's infamous sinkholes. A sinkhole, is, in essence, a large depression in the ground, resulting from a collapse of the underlying bedrock. According to the Florida Sinkhole Research Institute (FSRI), "In Florida, because of the unique geologic and hydraulic conditions, sinkholes appear almost everywhere, especially in the Central Florida region. Sinkhole collapse has become a serious problem. In 1981, there were over 300 sinkhole incidents reported. The most spectacular one was the well-publicized Winter Park sinkhole, which occurred on May 8, 1981. This sinkhole was approximately 320 feet (100 meters) in diameter, with estimated damage of more than two million dollars (U.S. $2.0 M) worth of property. Subsequently, more sinkholes collapse every year, especially during the drought, cold, and extremely wet seasons. Potential sinkhole occurrence will impact adversely on land development and construction."
Nevertheless, Hal has managed to turn a seemingly negative subject into a very positive experience for many people. Hal started diving in the sinkhole back in 1962 with his buddies from the gun club. Today, Hal offers deep-water scuba diving courses, and guided tours within the grotto. The hole reaches 240 feet, or "Forty Fathoms." Divers are at their safest within the grotto, because of its cloudless and pleasant water. The water temperature ranges from 67 to 73 degrees.
Hal's Forty Fathom Grotto is a NAUI Technical Training Facility. Hal specializes in deep-water diving, also called Extended Range Recreational Diving, and is the founder of PSA, an organization established in order "to offer the diving public quality training and certification through Extended Range Diver Courses (ERDCs). Originally PSA planned to offer only Extended Range Deep Air training; however, the staff quickly recognized that their expertise could benefit divers who were interested in other ERDCs," as Hal's web site describes. Their logo is the "Golden Triangle", which highlights the organization's three values – Knowledge, Safety, Integrity
During the training at the grotto each participant will first receive a course manual. Then, divers will be put in the hands of an extremely skilled scuba professional to begin hands-on learning in the water. The training is a tremendous value, and convenient. On site, participants can obtain all required equipment, through the full service dive shop. For extra value, take advantage of Hal's special, when a student enrolls in two or more classes they receive a 10% reduction in all class fees. Also, all scuba instructors are allowed complimentary entrance in the grotto, when they bring other divers.
Guided tours in the grotto are also available. There are thousands of reasons to dive in the grotto. In fact, there are thousands of ancient sand dollar and sea biscuit fossils. They range in age from 30 to 50 million years old. The walls of the grotto are made of limestone, and make an impressive display of natural beauty.
The facility is fully equipped for a day's outing, with restrooms, showers, picnic tables, grills, a classroom, loading decks, steps to the water, and air fills situated on floating docks. There is also a bungalow on site that houses about 10 people.
The professionals of "The Grotto" offer several different types of certifications, including Open Water Certification, referral certification dives, and certifications through IANTD, TDI, NACD and NSS-CDS.
Visit Hal's web site via Tropical Adventure.com and let his photo gallery tell the story of "The Grotto".
Get More Information on This Adventure!!!
Experience adventures like the one found in this article and others by using TropicalAdventure.com Vacation Planner. Simply fill out our Vacation Planner form and you will receive FREE information about this activity and others that you may be interested in. Click below to sign up.